Beyond the Man Cave: Masculine Makeover
11th Jun 2019
Whether you're giving your man cave a makeover, creating the perfect bachelor pad, or just looking to give your game room a masculine style, there are several ways to create a timeless look that you'll love for years to come.
THINK LEATHER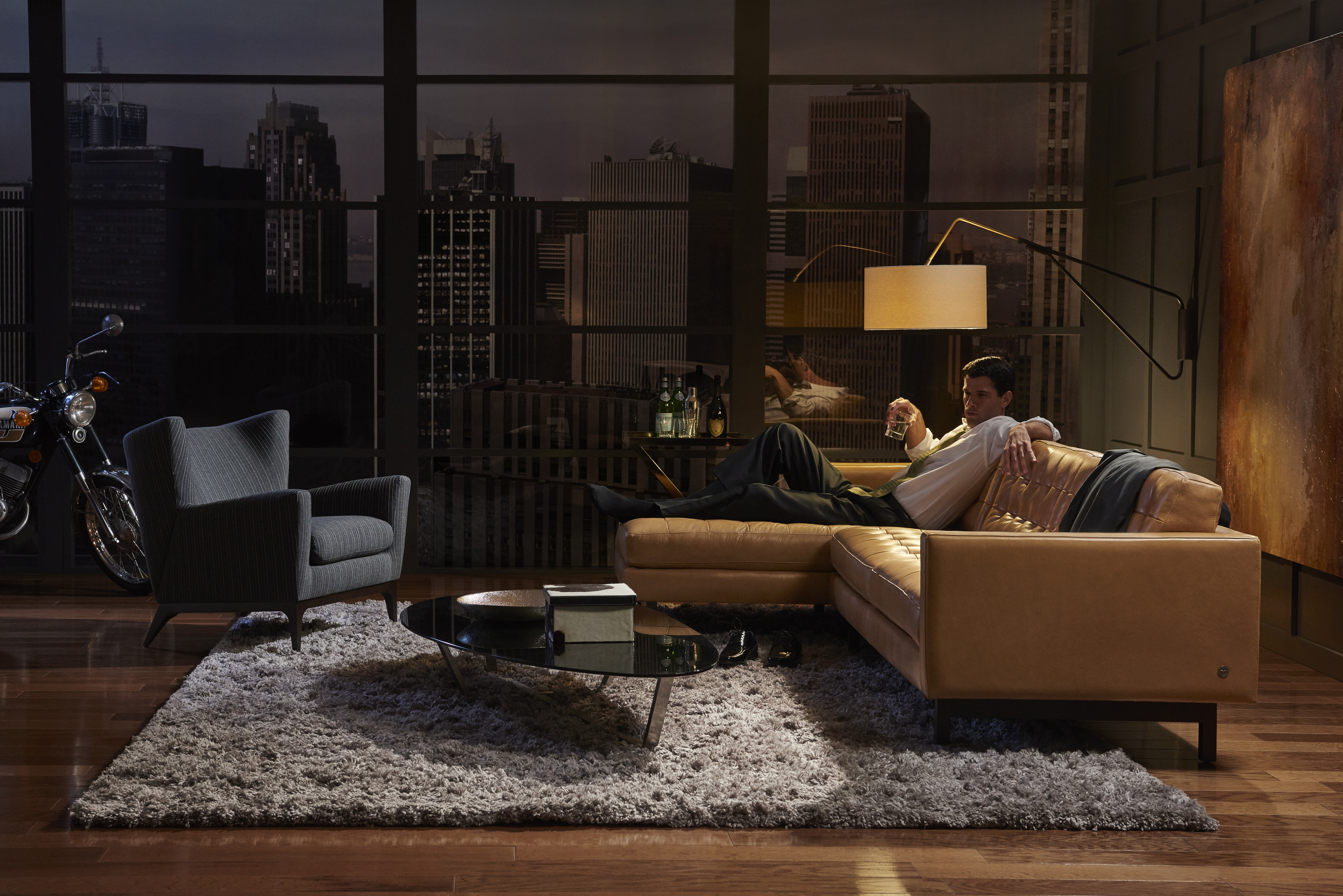 Not only can leather bring masculine vibes to your space, but it's also a chameleon in the design world. It can transform to match any style preference making it perfect for years to come. So, if five years down the road you decide to update your space to a completely different look, you don't have to worry about buying new furniture. Just simply add new accessories and art, and you're set.
RECLINER REIMAGINED
Recliners often get a bad rap when it comes to aesthetics, but times have changed. Now, there are several options for everyone… even those who said they would never buy one. Take the American Leather Comfort Air, for example. Not only is it visually pleasing, and blends seamlessly with even the most fashion-forward spaces, but it performs better than it looks. It rocks, reclines, swivels, and glides—making it the ultimate for kicking-back and binging your favorite show.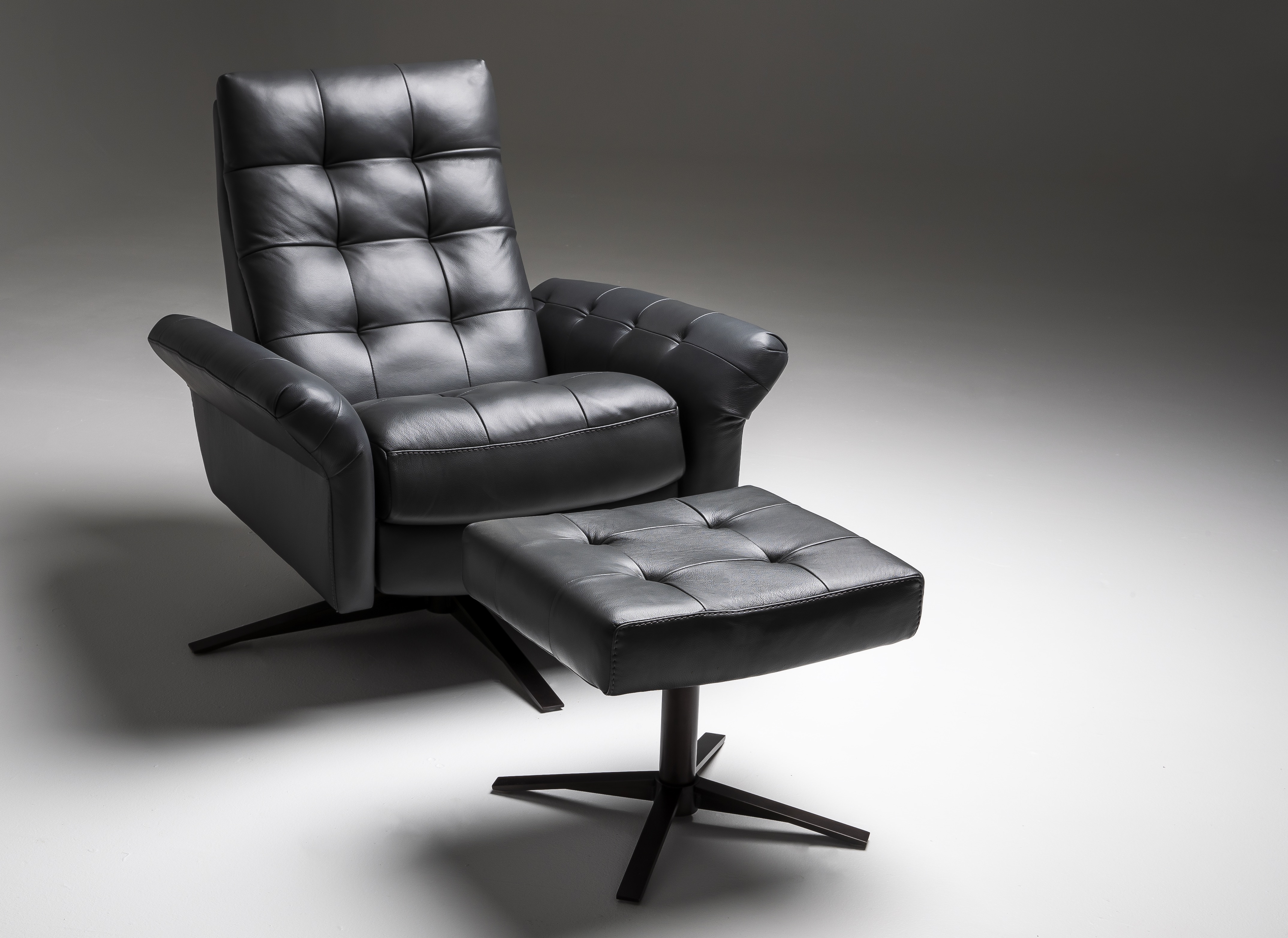 Looking for an even more low-key option? Think of one of the most beautiful accent chairs you've ever seen with the added benefit of an invisible recliner. It's not too good to be true. With the American Leather Re-Invented Recliner, you get the best of both worlds. The Aston, for example, has a stunning midcentury style that can lean masculine depending on your covering choice. The hidden recline function takes stylish comfort to a whole new level.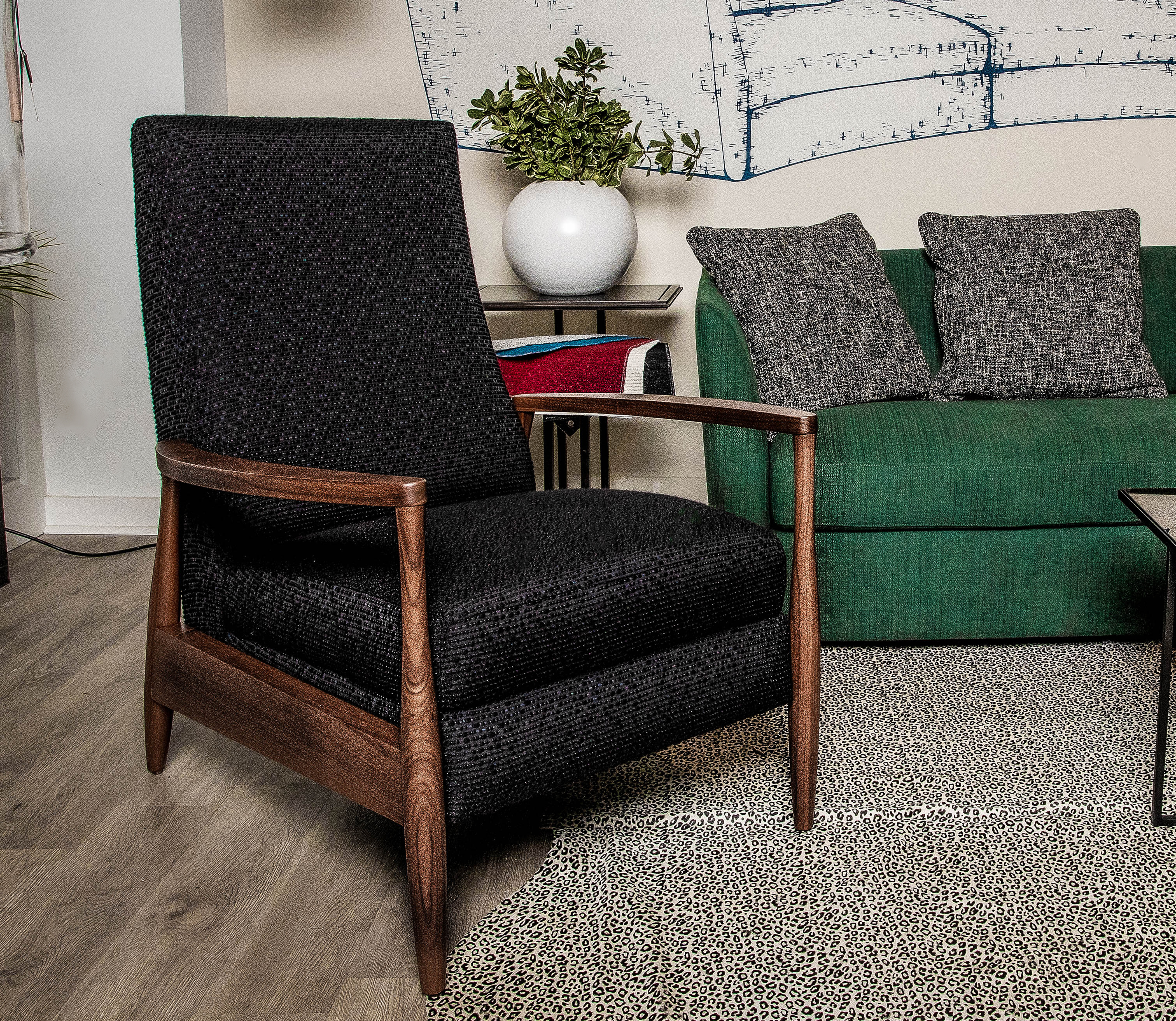 The options don't stop there. If you're looking for more of a traditional recliner with a contemporary twist, the Comfort Recliner may be right up your alley. Available in manual or power, the Comfort Recliner comes in every color of leather or fabric imaginable. Not only is it a great touch of masculinity, but also a fun way to add a pop of color to your space.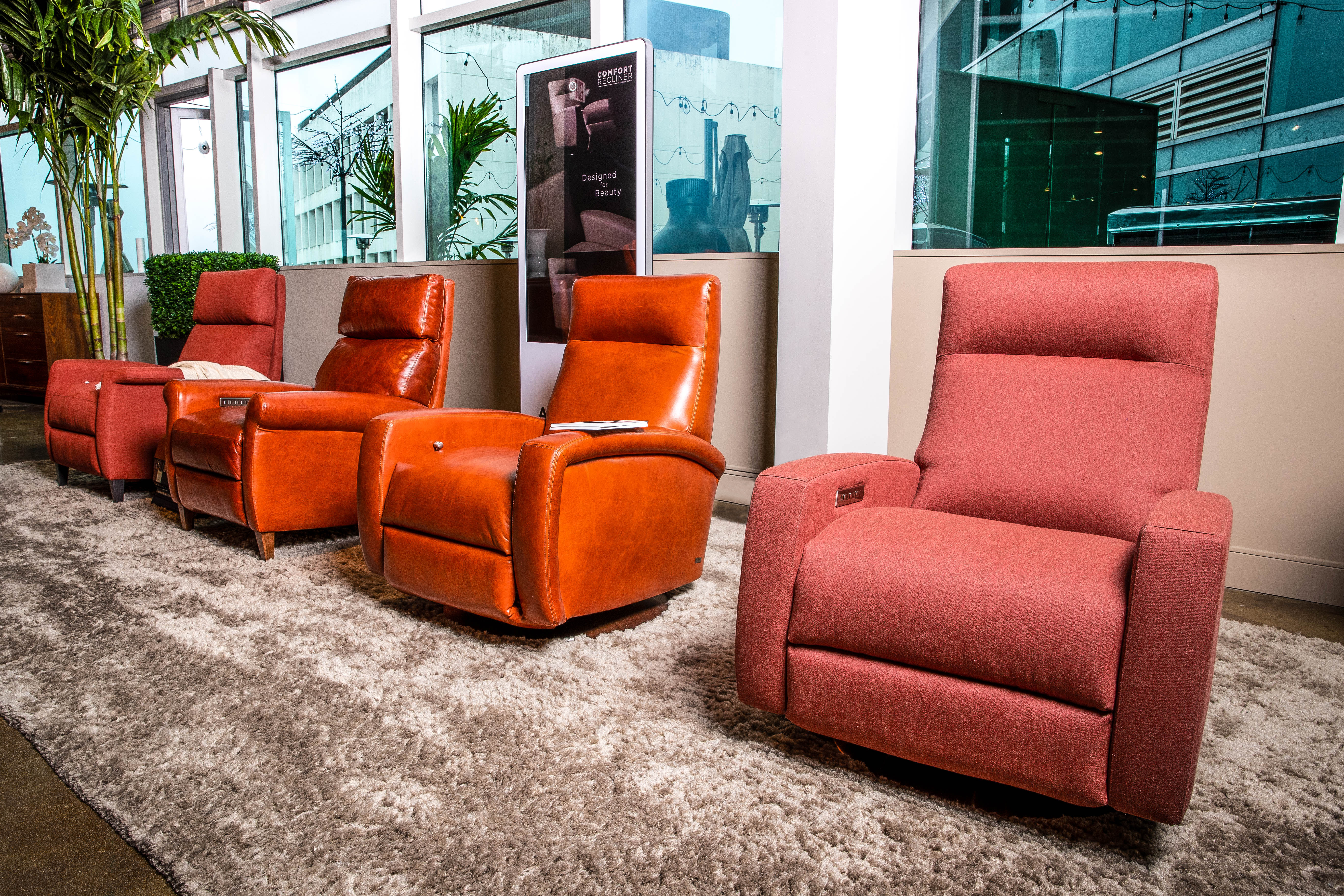 THE RUG SAYS IT ALL
One of our favorite ways to add a touch of masculinity to a room is incorporating a great rug. This blue camouflage run makes a big design statement without being too overpowering. We love the way the blue accents make the furniture pop.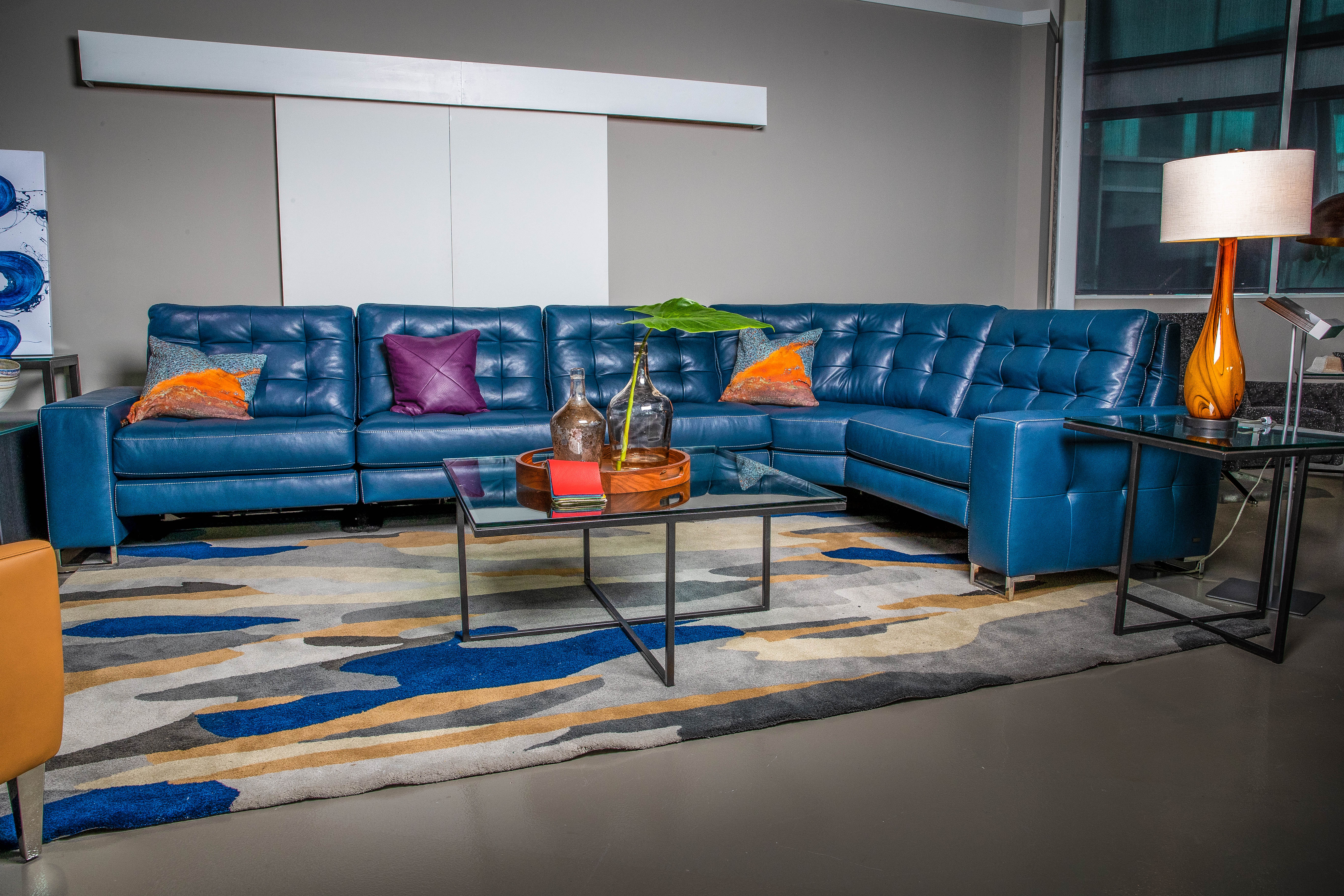 Another design tip we love is incorporating natural elements to your space. A leather hide as a rug can elevate a basic man cave into a sophisticated space by incorporating another added layer of texture.
ADD YOUR OWN PERSONAL TOUCH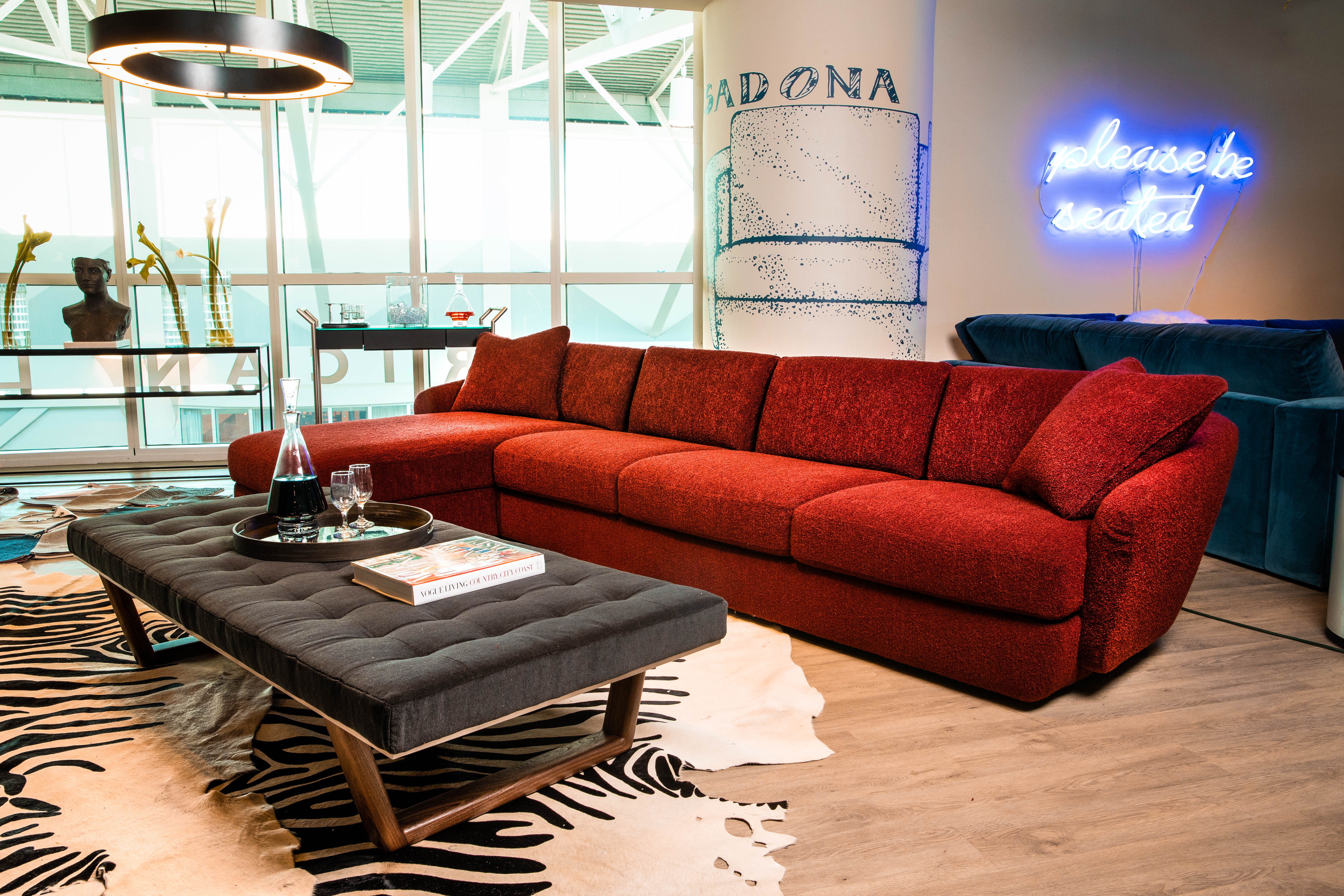 The most crucial element of bringing masculine vibes to your room is adding your own personal touch. Have an old jersey that is sentimental? Frame it and use it as art. Love neon signs but can't find a place for one? Put it on the wall to create a lounge-like feel. There is no absolute right or wrong when making a room that works for you. So be bold and step out of the box.