Re-Inventing the Recliner: Stylish for Her, Comfortable for Him
19th Feb 2019
For interior designer Susan Wilkins, having a traditional recliner cross the threshold of her home was unfathomable. That is, until she came across the right recliner.
"I am one of those people who said I'd never have a recliner. That changed when I saw the Re-Invented Recliner," said Wilkins.
A master designer with more than 30 years of experience, Wilkins has worked on everything from professional athletes' homes to large retail stores. She says recliners were always a fashion faux pas…that is until American Leather literally re-invented the category with its new collections.
The age-old problem with the recliner has been long documented. "He" likes it because it's comfortable, great for watching games, enjoying movies or just snoozing. "She" objects to furniture that encompasses the style and shape of an overstuffed box. To make matters worse, when the chair opens, the metal mechanism has all the charm of a medieval torture device.
The Re-Invented Recliner by American Leather is the solution to settle both sides of the argument. A chic, fashion-forward piece that breaks every stereotype of the traditional recliner, while still retaining the expected comfort.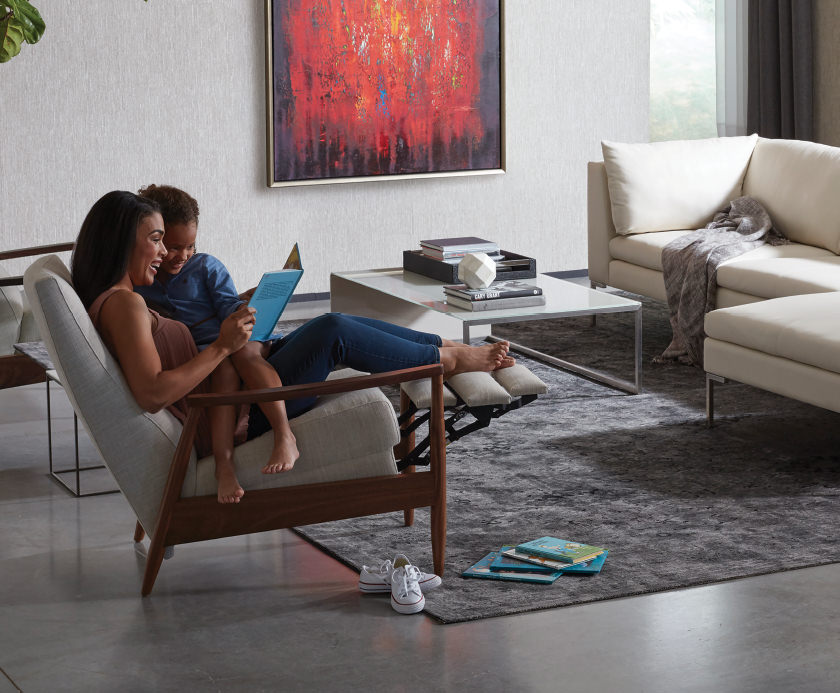 The Re-Invented Recliner is the perfect blend of fashion and function. It's a simple reminder of an age-old saying: "Never say never." And according to Wilkins, that saying describes the Re-Invented Recliner perfectly.
Best of all, American Leather has a style that will fit flawlessly in any home, no matter your decor. Consumers can choose from seven sleek options that range from modern to traditional. You can customize your recliner from hundreds of leathers and fabrics, or you can always Bring Your Own Covering.
Click here to learn more about our Re-Invented Recliner collection and see for yourself how American Leather has turned a drab furniture category into a stylish must-have for your home.