How to Make Modern Comfortable
14th Sep 2021
If you are a connoisseur of furniture with clean-lines, a seeker of simplicity or a fan of "form following function," then you may be ready for a modern makeover or modern infusion.
Many people are gravitating towards this minimalistic sensibility as a way to exhale from their multi-tasking and internet-driven lives. Another bonus is there are super easy ways to incorporate this vibe into your home's living room and bedroom space that don't involve knocking down walls or applying for a bank loan.
Some people worry that to achieve a modern look, you may end up with a cold, stark space. Not to worry, a modern aesthetic doesn't have to mean creating a cavernous space with concrete slabs or uninhabitable chairs. By simply choosing the right modern pieces, you can complement the look and feel of your home and create a cozy place to exhale. Let's look at 10 ways to totally transform your home into a modern, yet comfortable sanctuary…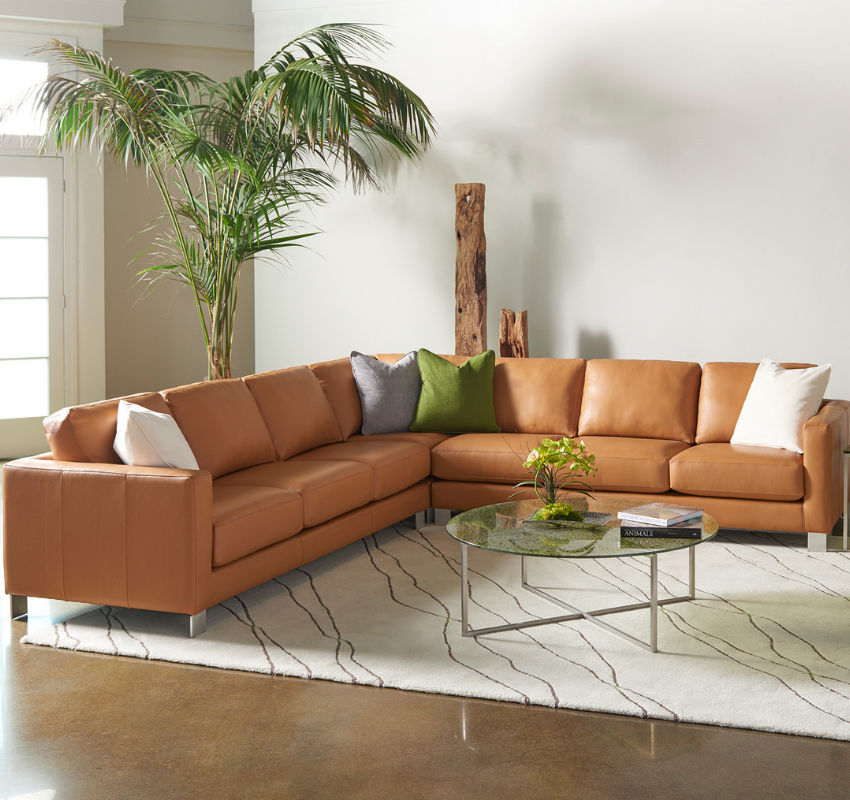 1. The Secret to a Modern Home Look
Since modern design is streamlined and clean-lined, step one is to clear out the clutter. Your furniture needs open spaces to give your eye a place to land and to appreciate the simplicity and subtle sophistication. Joshua Becker said it perfectly, "The first step on crafting the life you want, is to get rid of everything you don't." Decluttering is a quick way to claim a calm feeling.
2. That's Right - Paint it White
Certainly, color can affect you both mentally and physically. Choosing a paint color that is light, airy, and neutral will instantly make your space seem more open and serene. Whether you call it modern minimalism or a reaction to the patterned heavy past, it's impossible to escape how popular all-white homes and walls seem to be right now. Online room designs pictured across the globe, show fresh white walls accented with oversized rugs, large leafy plants and carefully curated treasures, that add a layer of intrigue and warmth to your space. Remember, a fresh coat of paint gives you a fresh start and a feeling of fresh possibilities.
3. When Choosing Furniture, Gather Great Basics
A survey by property chain Zoopla reveals that almost one in four buyers make a decision about putting an offer on a house within just 10 minutes of viewing it. The same survey reveals that we take nearly three times as long to choose a sofa as we do to pick the home it's going to be living in. Here's a secret, the trick to overcoming sofa paralysis, is to pick a well-made, classically designed sofa or sectional in a neutral color, so you can create an inviting space that is packed with comfort. Check out American Leather timeless designs that evoke luxurious style.
4. Develop a Chair Crush
With a timeless yet modern sofa or sectional, you can really express yourself with your choice of accent chairs. Just because it has clean lines doesn't mean it can't be ultra-comfy and lounge worthy. We provide some of the most innovative seating technology. Take our "Comfort Air" for example, it is our solution to the modern rocking chair. It is designed to move with your body with a patented mechanism that cradles you to the perfect lounging position for optimal comfort. You will be blown away when you experience a chair that reclines, glides, swivels, and rocks with you. Comfort guaranteed. The Comfort Air boasts innovative technology and provides a unique floating seating experience to move with your body. This modern recliner was designed to be the most comfortable chair in your home. When upholstered in one of our gorgeous tactile fabrics or our rich leathers, the aesthetic is changed from cold-modern to ultra-inviting and cozy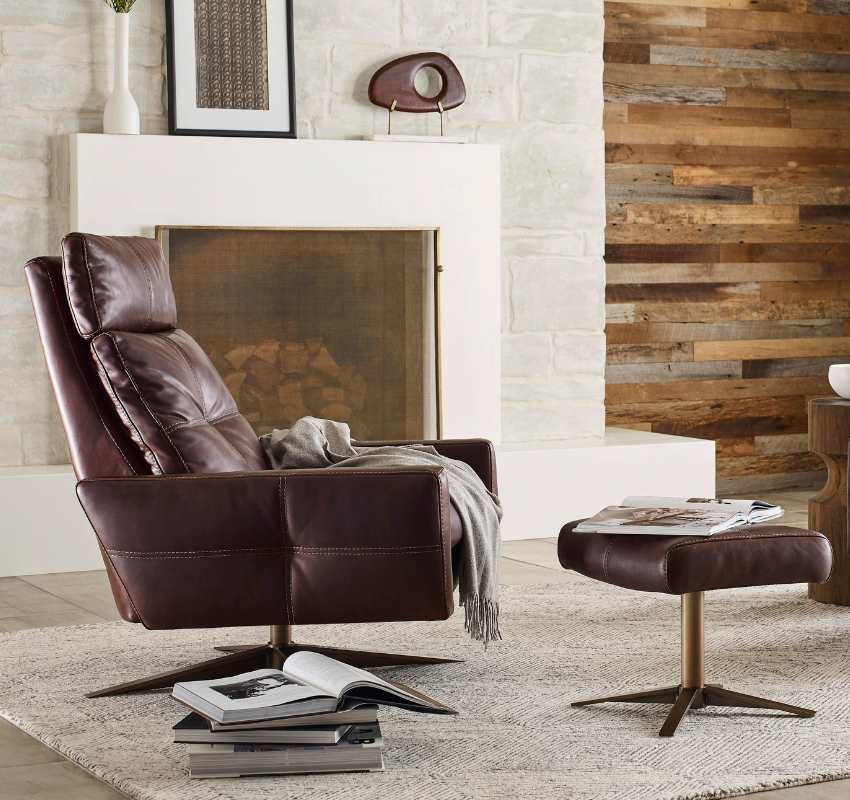 5. Turn to Texture
We're always intrigued with how easy it is to breathe new life into your living room simply by switching out throw pillows. Try adding a velvet or Mongolian fur pillow or tossing a chunky cable knit throw onto your sofa, which will easily add that cuddled-up, swoon worthy vibe.
6. Dress your Windows
Window coverings are not only a fashion accent for your bedroom, they are also super functional and can add a modern touch. They offer privacy, keep your energy bill low and add a sense of comfort to your rooms, too. Have fun exploring shades, drapes, rollers and eco chic coverings that can be done in chic textiles and also enhance your space.
7. Warm it up with Wood
Natural wood is a go-to when you are trying to make a large, open living area feel warm and inviting. It has an organic element that reminds you of nature and brings a cozy, unfussy look and feel to a contemporary space. And organic wood shapes mixed with modern upholstery styles play beautifully off of each other.
8. Don't Forget the Floor
Let's face it, great interiors aren't complete without great rugs. They're often the unexpected item that makes a room feel anchored and cozy. Rugs can be 'floor art" or just add some "toe scrunching" joy to a space. Either way, whether you a pick simple or a statement rug, once you unroll it, you will be amazed at the difference it makes.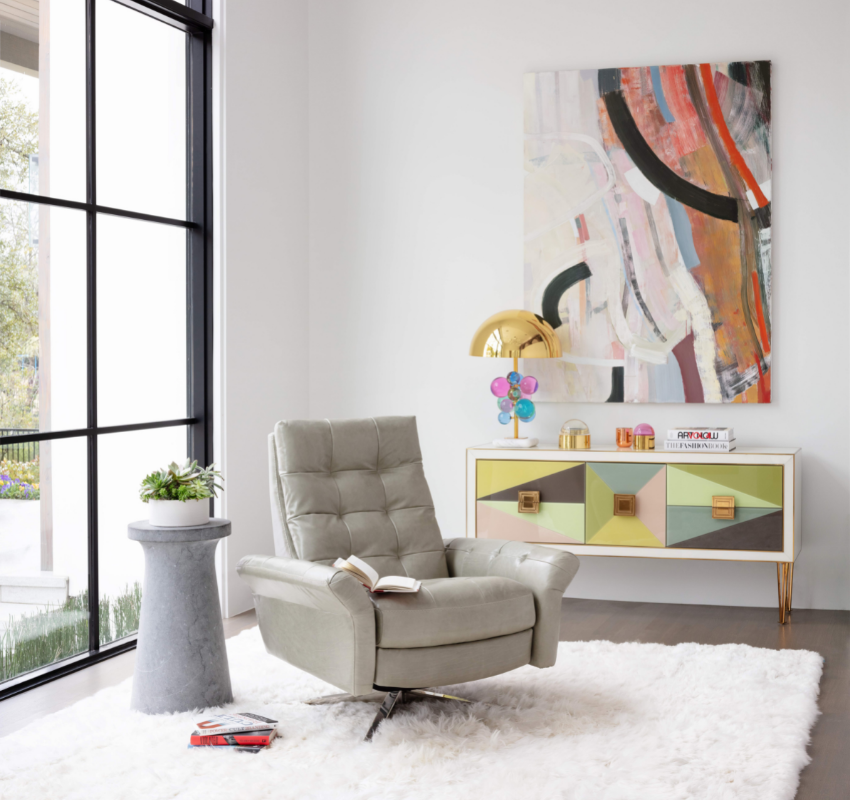 9. Supersized Art
Modern purists often use bold art in a room. Remember that the Mid-Century Modern era has some serious rock star artists like Pollack, Warhol & Mondrian. Today's modern aesthetic is wide open for color and style. Many are opting for neutral calming abstract art. Whatever speaks to you, don't be afraid to supersize your choice.
10. Magnify Your Modern Dreams
When in doubt, talk to a pro. Your favorite furniture store will likely have a designer on staff that can help you explore ways to amplify your inspiration and incorporate a modern mood into your home, without giving up the comfort you need.
Modern influences have been finding their way into almost every home these days. It isn't a trend but rather a cultural shift to appreciate the art of simplicity. To use Don Draper's words… "Make it simple, but significant."