Bringing a baby into the world is one of life's greatest gifts. Every new parent wants to create the perfect nursery for their new bundle of joy, but at times it can seem overwhelming. With so many products, colors, and decisions—it can get stressful quickly. We're here to help you create a space that's relaxing, happy, and above all, stress-free.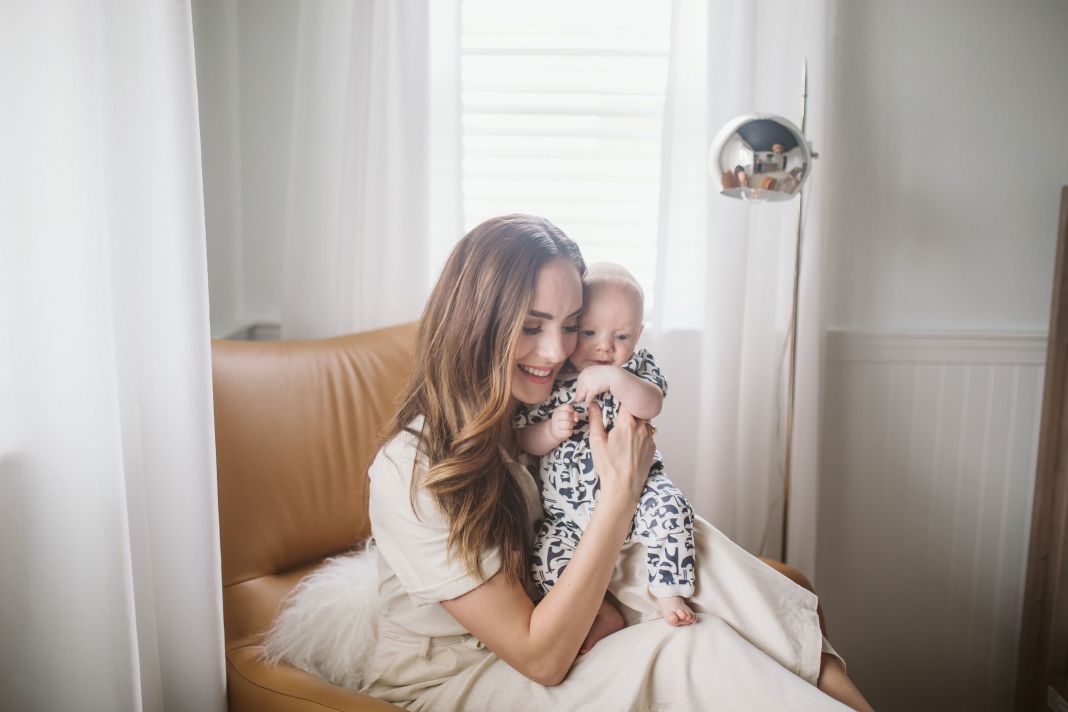 Photo by StyleHerLovely
COZY TEXTURES
Nothing is quite as relaxing as a soft cozy blanket. Bedding will be one of the most important items in the your new nursery. It's a good idea of stock up on several sets of sheets and blankets for your crib. You will want to spend as much time as possible with your sweet baby—and the inconvenient truth is, you'll likely be running low on sleep—constantly doing laundry will be the last thing you will want to do.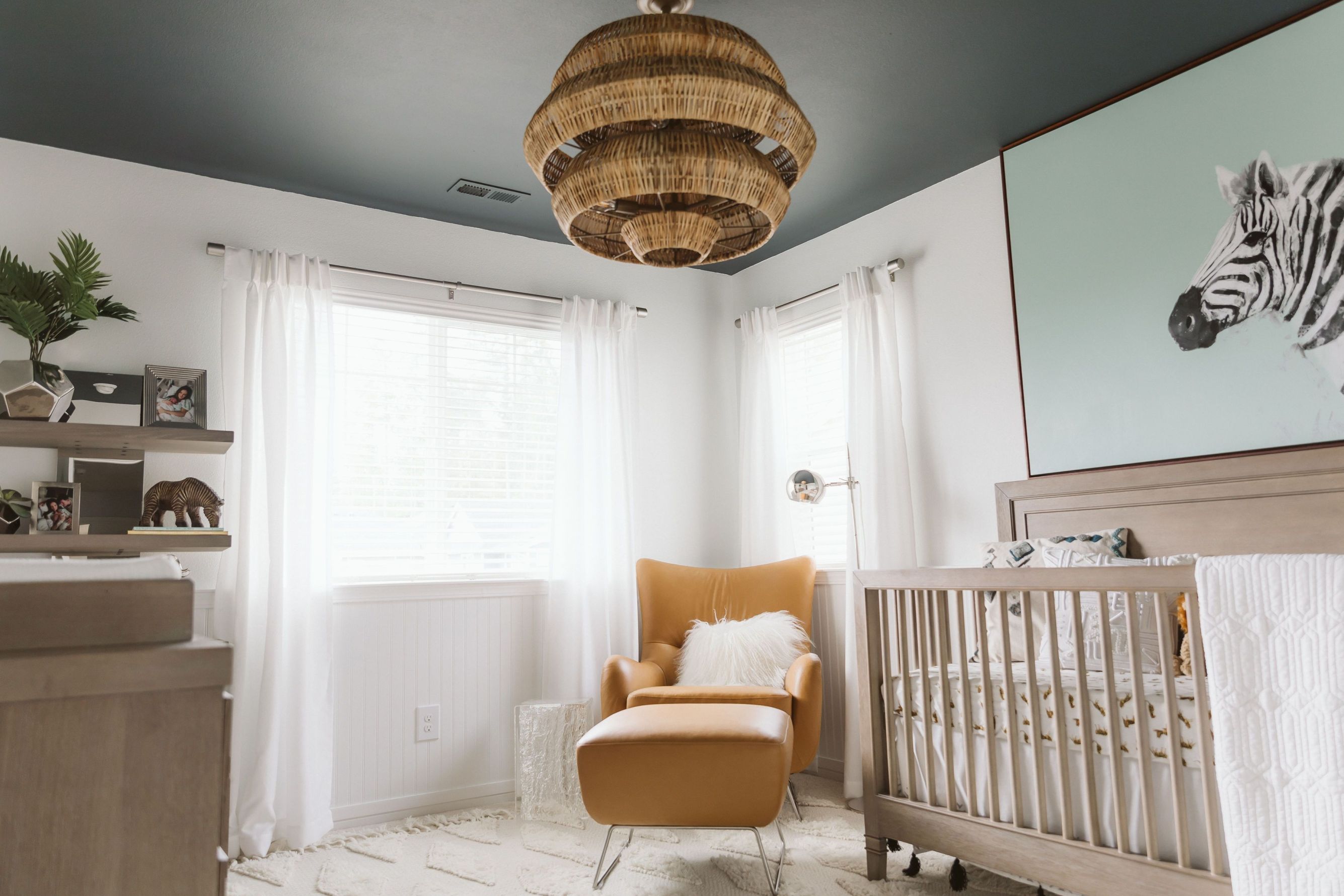 Photo by StyleHerLovely
TEXTURE & PATTERN
What's not to love about this look by McKenna Herzog of Style Her Lovely? Notice how the texture of the geometric rug from Urban Interiors, the Liam Chair in a buttery soft leather (Bali Butterscotch), faux fur accent pillow, and sheer white drapery combine to create a simple yet beautiful environment for her new baby to flourish in. We love the mixture of materials McKenna used to create this very visually and tactile appealing space.
Picking a theme for any room is where the fun begins. For a nursery project, this is the perfect opportunity to bring in your own style and ideas. For inspiration, we suggest creating a Pinterest board, flip through your favorite magazines, or even choose your favorite nursery rhyme!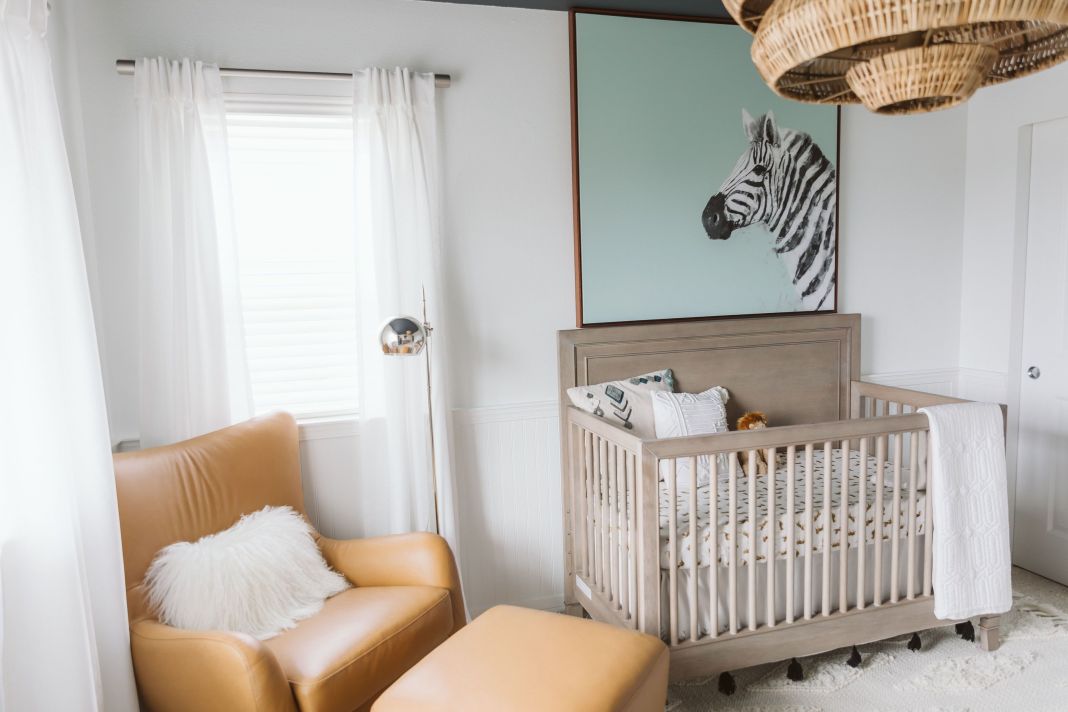 Photo by StyleHerLovely
CALMING COLORS
Any bedroom, especially a nursery should be soothing. When deciding on a paint or wallpaper color, think pastels or neutrals. Style Her Lovely chose white walls with a charcoal ceiling—this color combo works well with the different textures happening in the nursery without being overly stimulating. We love the addition of artwork to bring color into a room. The zebra print McKenna chose combines all of the other colors seen throughout, with the addition of blue—the most calming color. Scientifically speaking, according to Sleep.org, blue is the most calming color.
Specialized receptors in the retina of your eyes—called ganglion cells—are most sensitive to blue. The ganglion cells are responsible for relaying information to the part of your brain that controls your body's 24-hour rhythm, which, in turn, affects everything from performance to how you feel physically during the day. The color blue is associated with feelings of calm which, when picked up by your ganglion cells and relayed to your brain, helps reduce blood pressure and heart rate, all of which help you receive a solid night's sleep.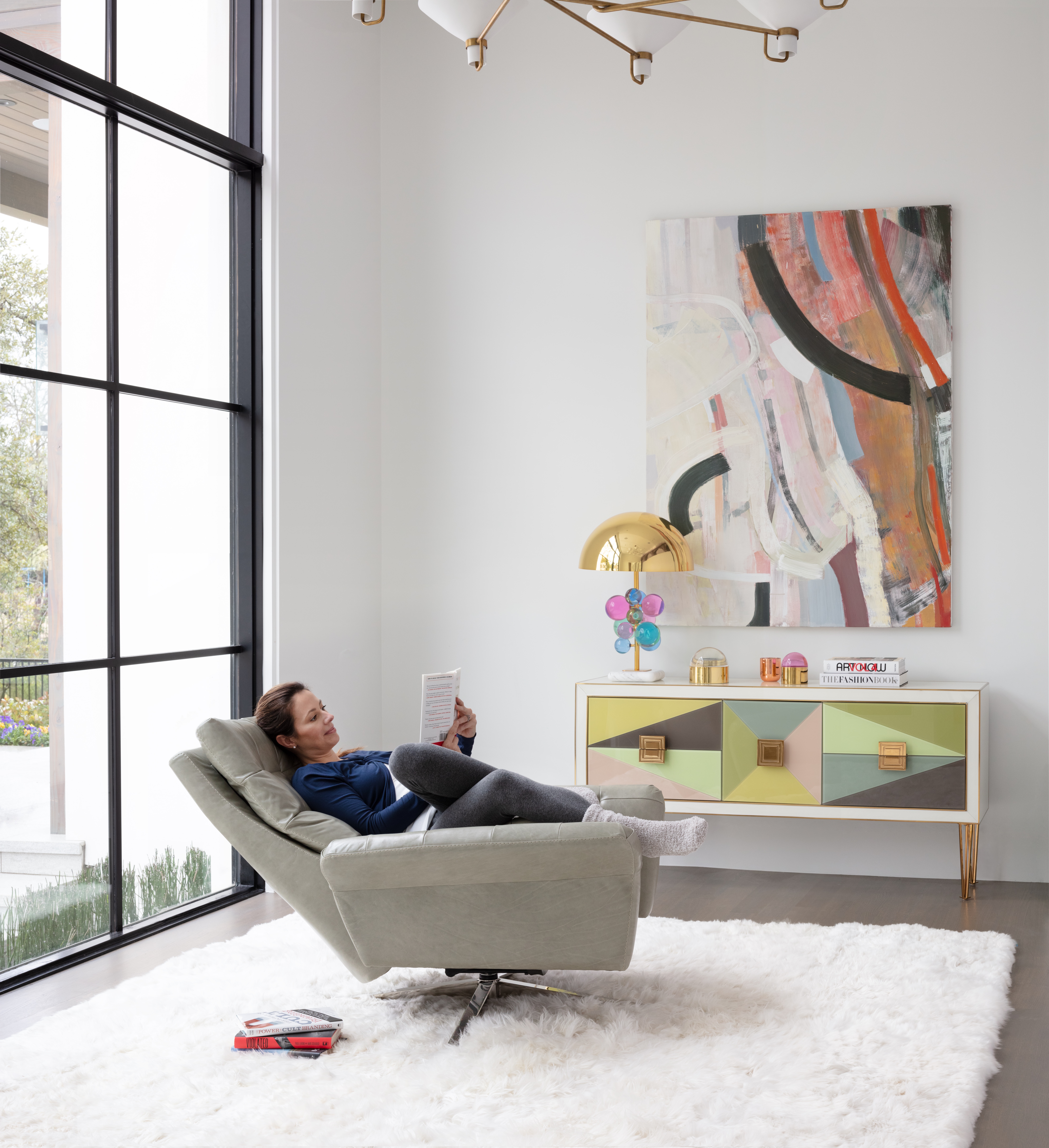 SEATING
One of the single most important elements in any nursery is your chair. You will want a chair that's as comfortable as possible while feeding, soothing, and rocking your baby to sleep. Aside from Style Her Lovely's Liam chair and Ottoman combination, the Comfort Air by American Leather® is the perfect solution. Not only does it rock and recline, it also glides and swivels—making it the must-have chair for any nursery. The Comfort Air is available in 3 sizes (standard, large, and extra-large)—and six stunning styles that will grow with you and your baby. Choose from a virtually endless array of fabrics or leather to suit your own style.
GO GREEN
Using eco-friendly products is not only better for the environment, but it's also healthier for your baby. Using non-VOC paint greatly reduces the lingering smell of a freshly painted room. Look for furniture and rugs that are made without harsh or harmful chemicals to eliminate any off-gassing from key design elements in your nursery. Using organic materials for your bedding and drapery avoids sparking unknown allergens your new baby might have.
The most important thing to remember when designing your perfect nursery is to have fun! Bringing a new baby into the world is one of life's most precious gifts, and any nursery you design will be perfect. For more inspiration follow us on our social channels, or sign up for our exclusive email list!