Buying a Sectional Sofa: How to Choose a Sectional
2nd Sep 2019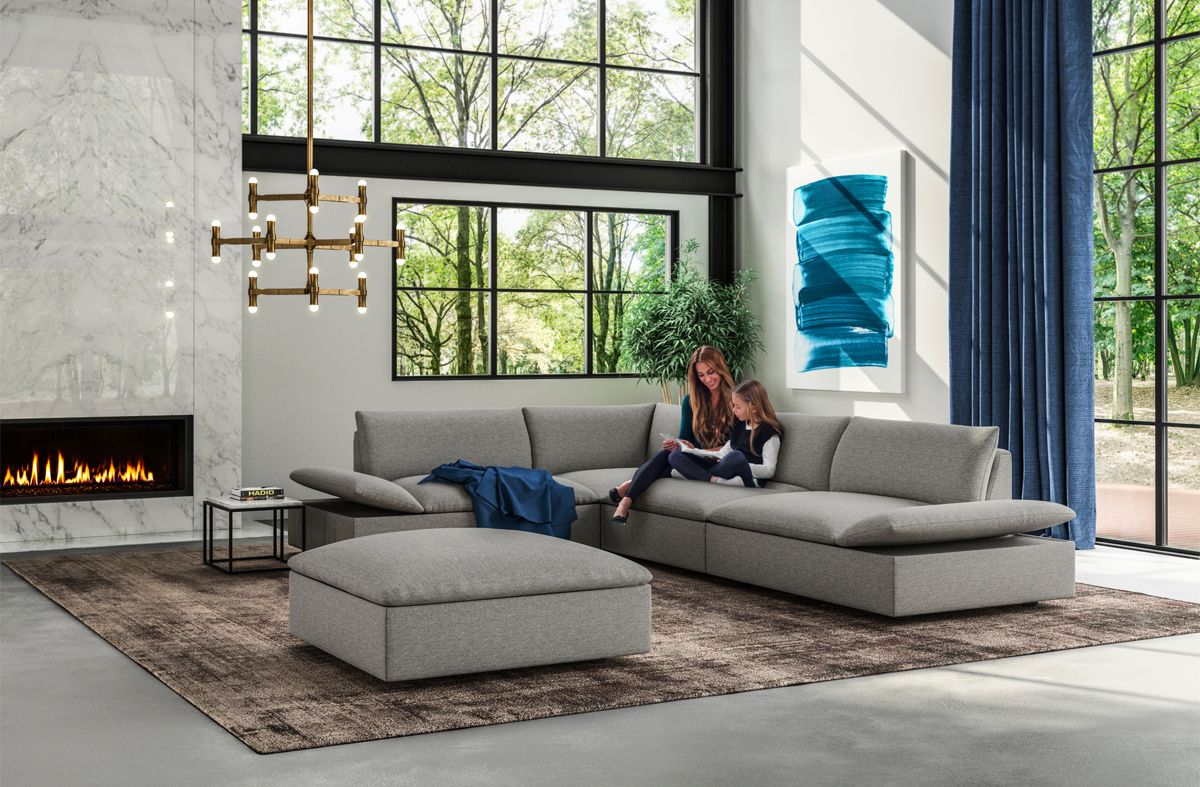 Versa Sectional & Ottoman - Aura Natural
When the term "sectional sofa" is mentioned, most people immediately picture an oversized L-shaped couch that takes up most of the living room. While this description may pertain to some sectionals, it does not do this versatile piece of furniture justice. The sectional sofa is one of the most practical pieces of upholstered furniture for large and small living rooms alike. In fact, many different pieces can make up a typical sectional configuration – from a single chair to a chaise to a sleeper sofa.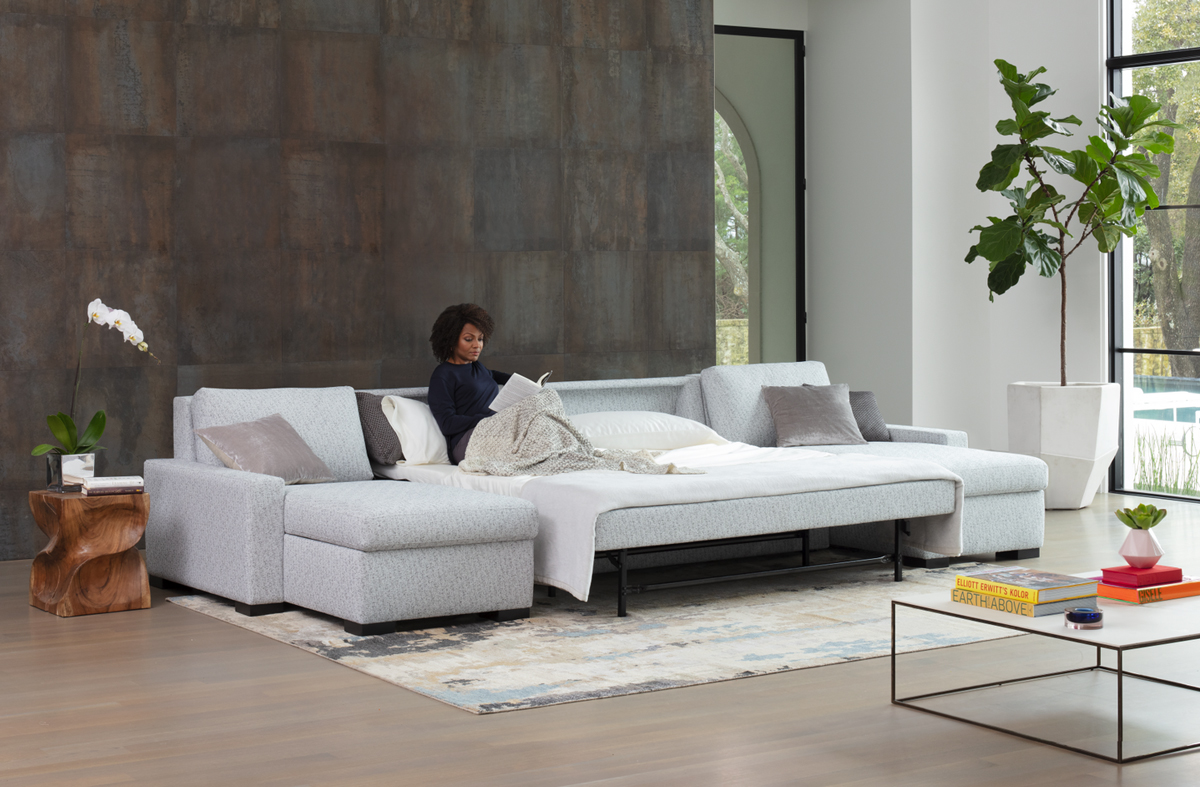 Rogue King Sleeper with Double Chaise - Monk Speckle
Homeowners and designers today also no longer feel the need to always match their furnishings, but instead can create coordinated rooms where all the elements work together. With so many choices for sectional seating available, how do you select just the right configuration for your space?
PIECES VS. SETS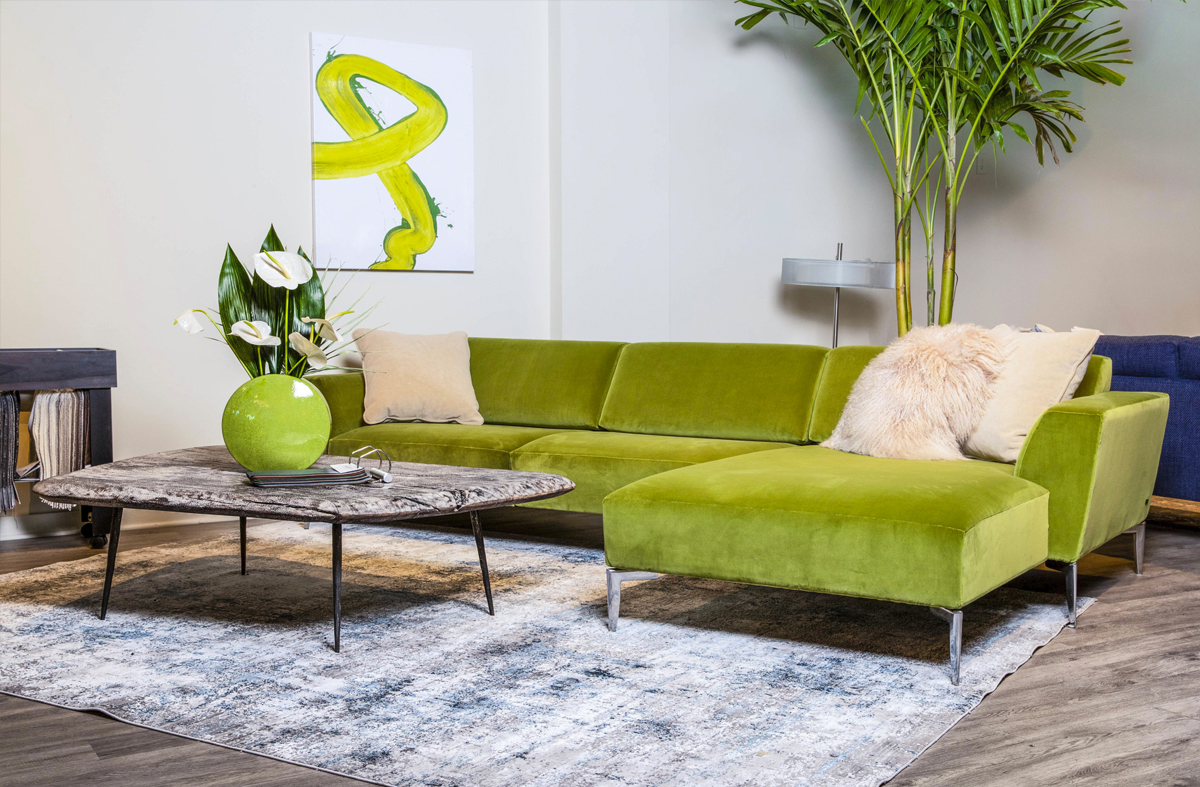 Adriana Sectional - Reed Citron
Consumers today are willing to take more risks in their home furnishings and are now looking for specific pieces of furniture instead of sets where everything matched. The days of building a room around a sofa-loveseat-chair combination are long gone.
Though this typical trio still plays a significant role in furnishing homes, consumers know they are not the only way to go. Instead, buyers are opting for sectional configurations that maximize seating areas and deliver stylish comfort – something that has become key in the home.
Sectional design has also come a long way, and the overstuffed variety is no longer the only option. Today, homeowners and designers can get beautifully crafted designs that still match the aesthetics of their decor while getting all the seating space and comfort that comes from a sectional.
MORE SEATING IN LESS SPACE
Sectionals offer limitless configurations, more seating capacity, and more room for entertaining, making them a popular selection for homes today. But what happens if you don't have a large sprawling space for a big setup? Even in more confined spaces, sectionals can work nicely, just by selecting a style that works with your space.
One way to do this is to go with a more refined or tailored design, which minimizes bulk and keeps the sofa from overwhelming the space. Clean-lined styles mean you can secure more seating in less space.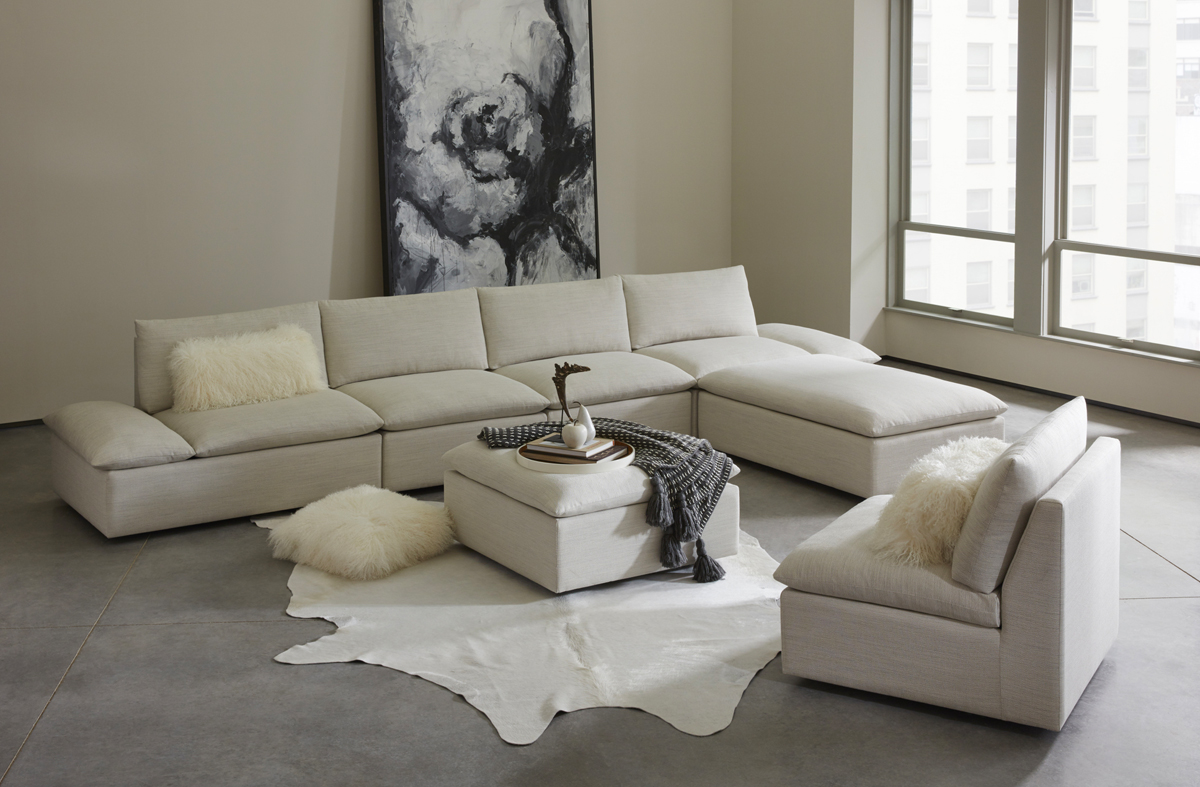 Versa Sectional & Chair - Artemis Snow
Another way to achieve the look in a tight or smaller space is make use of armless seating. For instance, a sectional could be set up with a one-armed loveseat at one end and a one-armed chair with a corner piece in the center. This sectional configuration would give more seating capacity in less space than a loveseat chair combination.
ENTERTAINMENT HOTSPOTS
Sectionals are social. In homes that boast them, people tend to sit a little closer and feel more relaxed, which makes them ideal for homes that frequently entertain. If you love to entertain, consider wedge sectionals: two pieces that each have 22.5-degree angle. This is a great configuration for game-day watching with friends, where everybody's seat faces the screen.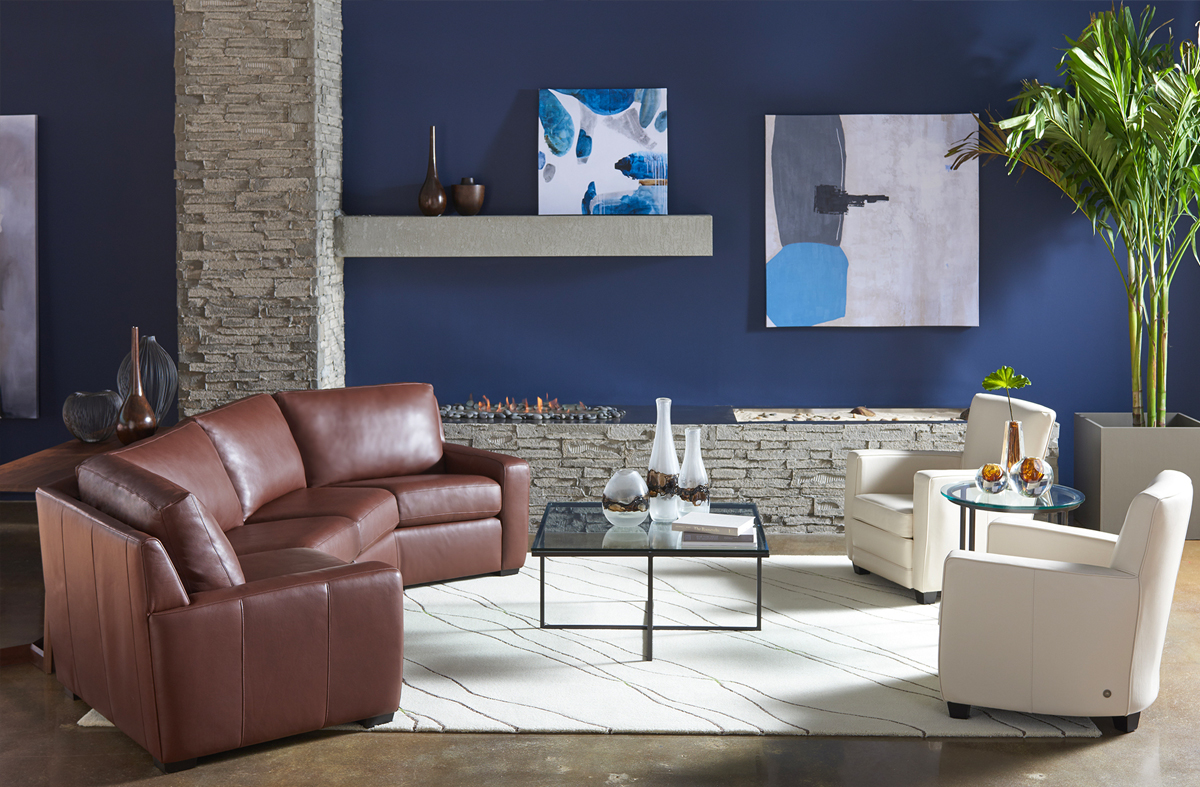 Lisben Wedge Sectional - Bison Tobacco ;& Ethan Chairs - Bison White
Sectionals also provide great spaces for easy conversation and relaxed entertainment. Sectionals that offer an end chaise lounge keep the space open and allow people to sit on either side, which is great for an intimate set-up for sitting and talking.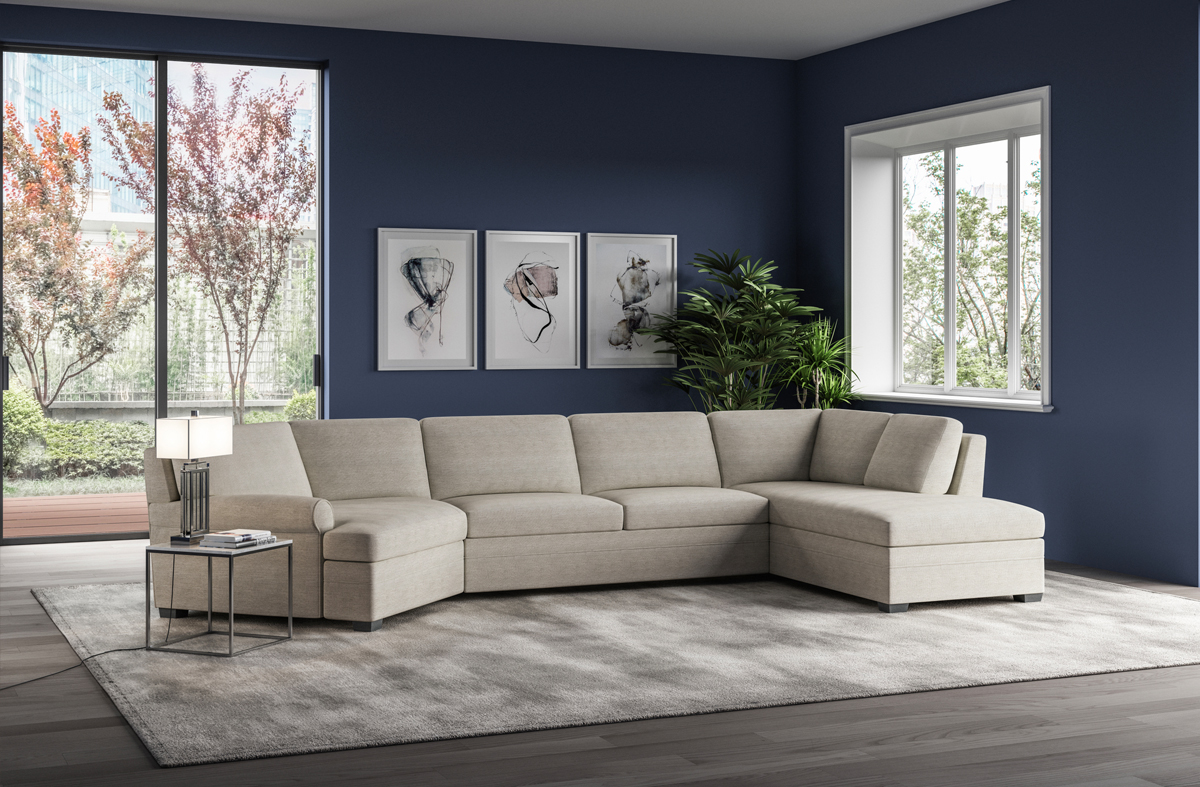 Gaines Comfort Sleeper Sectional - Artemis Snow
EXPECTING GUESTS?
No extra guest room? No problem! Many sectionals today can double as a bed, which makes them ideal for spaces that can host an overnight guest. American Leather's Comfort Sleeper™ sectionals, for instance, are well-styled, comfortable and feature state-of-the-art sleeper technology, which makes the bed as comfortable as the sofa. Having this extra function from a sectional takes the worry and planning out of having guests stay the night.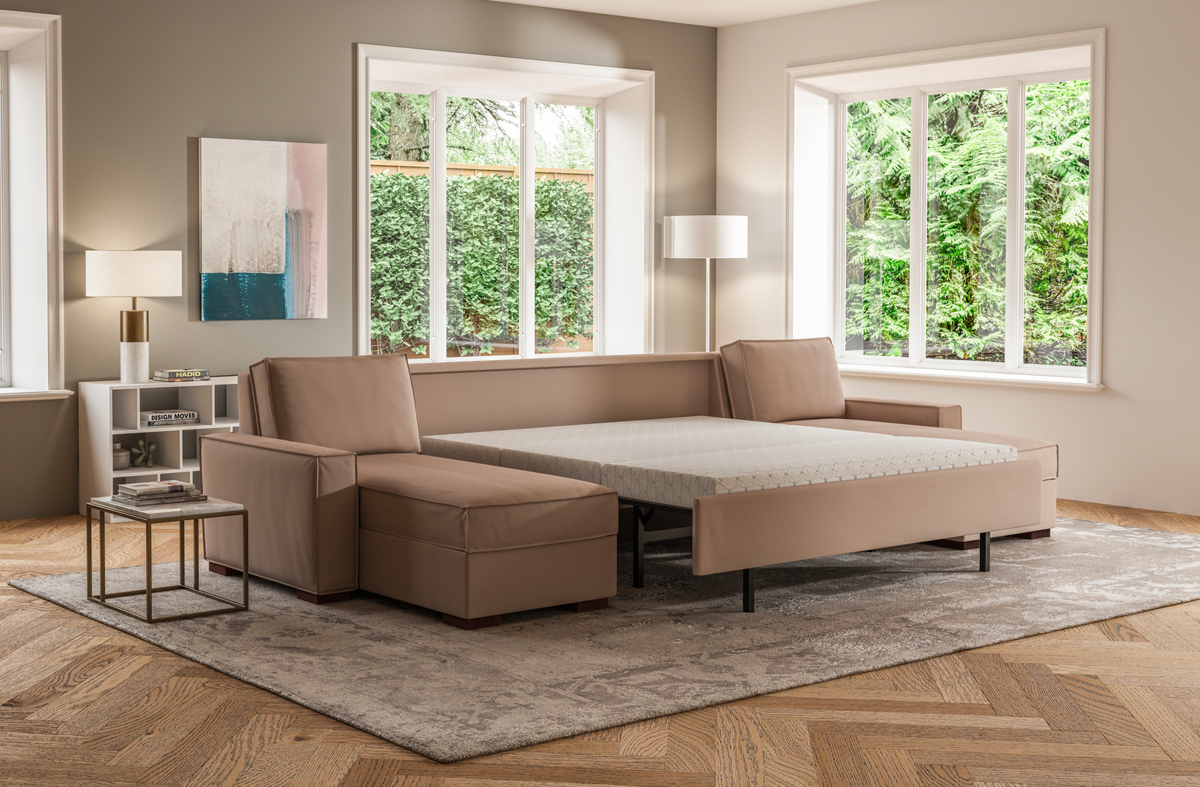 Madden Comfort Sleeper Sectional
Like other Comfort Sleepers, American Leather's sectionals feature the patented Tiffany 24/7 Sleep System. Every Comfort Sleeper comes with a full-length mattress that is evenly supported with no bars, no springs and no sagging.
If a pull-out isn't needed, but you are looking for additional style and function from your sectional, those with built in powered reclining can be a big hit on movie nights or holiday evenings with the family. To maximize space for reclining, be sure to look for styles that can hug the wall so that there is still room to move around the sectional, even when fully reclined.
American Leather's Style In Motion® sectionals offer a place to kick back and relax, taking style and lounging to new levels. Its zero-clearance design allows for reclining even when it's positioned close to the wall. The best part? You control it all from a polished metal panel located on the arm, or hidden between the seats.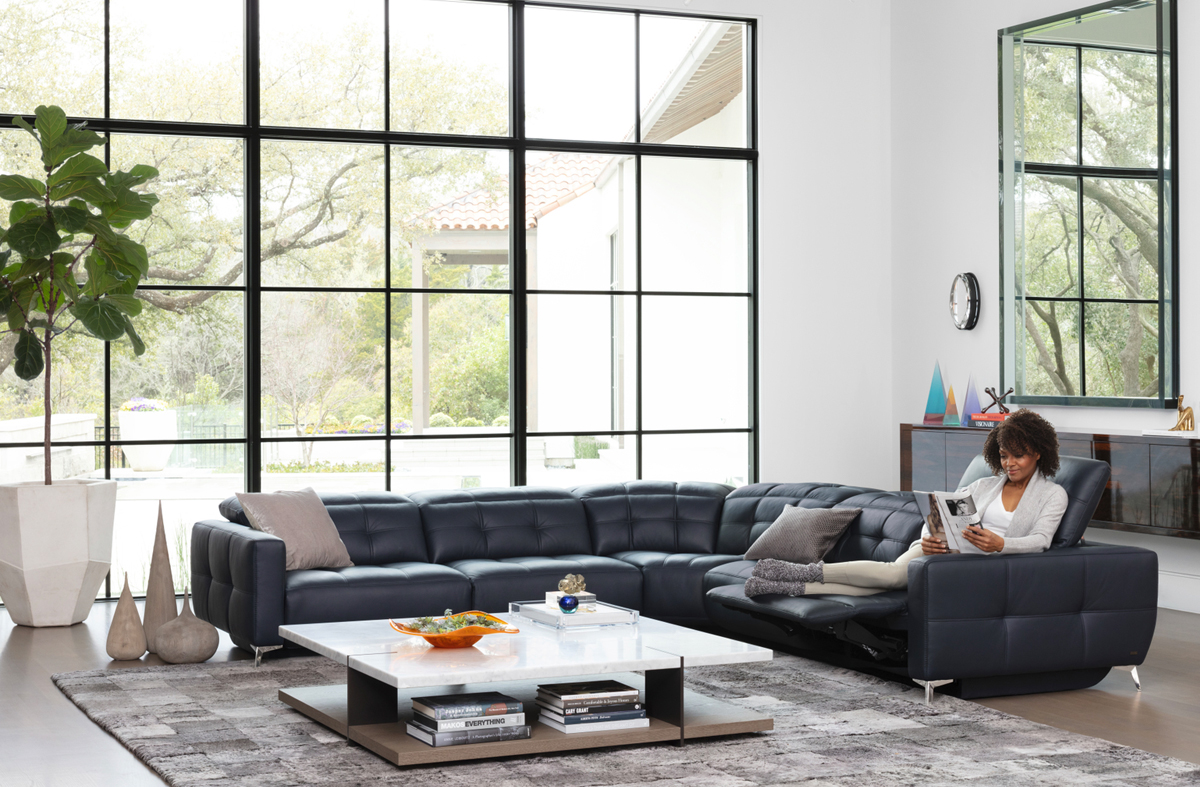 Verona Style In Motion Sectional - Elmo Soft Blueberry
Whatever your style, planned use, or spacing needs are, there are so many options today for sectionals that make them ideal in any home. Plus with so many options available, it means you don't have to sacrifice great style to get great function and comfort.