Trend Spotting: We've Got The Blues
24th Jun 2019
Pantone didn't name it as the official color of the year, but blue is one of the strongest trends in home-fashion for years now. From nautical navy to deep teal, adding shades of blue to your living room furniture is here to stay.
BLUE AS A NEUTRAL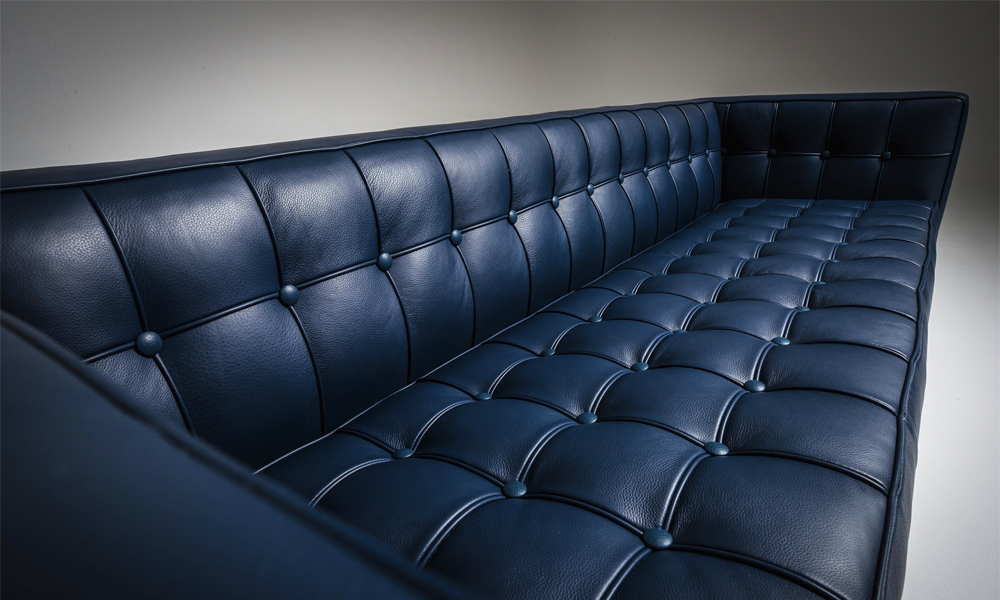 The color blue is welcoming and calming—not to mention it pairs well with virtually any other color you can name: white, gray, black, beige, tan, yellow, orange, pink, green, and many more. Blue might as well be considered a neutral due to how well it goes with nearly any color.
Blues pop against natural materials like wood and metallic finishes. Whether mixing blue with bright neons or warm earth tones, this classic hue is making a big statement in both accent and focal points in every space.
When you're shopping for a modern sofa or something more on the traditional side, dark navy blue is the perfect way to swap in bold colors as the base of your space. By combining sumptuous blue furniture with more traditional neutrals like grey, white, tan, or beige instantly gives your room a touch of regality. The best part is, blue and light neutrals never go out of style.
Blue leather, especially on tufted pieces like this Luxe sofa, creates an almost opalescent effect when light hits the highs and lows and gives it a much-needed highlight.
A SOFTER SIDE OF BLUE

Blue velvet shines on its own. This show-stopping texture radiates luxury, but it still offers an inviting softness. Much like leather, velvet drapes beautifully on every surface - rigid or curved. When paired with the metallic sleigh legs of this Nico Re-Invented Recliner, blue velvet is instantly brought into the lexicon of designer trends.
Silk velvet, mohair velvet, or even cotton and linen velvets provide a refreshing burst of opulence to any space. Give your blue velvet accent chair the royal-touch by adding contrasting accessories like throw blankets or pillows.
Don't hesitate to mix your blues with other blue shades. Navy blue looks great with cornflower and teal. Our tip is to include patterns and contrasting textures to avoid a blue-overload (is there such a thing?).
ADDING CHARACTER

The easiest way to introduce a new color into your space is through furniture. One matching set of chairs or sofa is all it takes to make a big statement. These pieces become the king (or queen) of focal points in any room.
Love saturated colors? This Cole chair in Mont Blanc Mountain Spring not only packs a punch of teal, but the natural markings of this leather also are unique to every hide and will burnish and patina in time. That's right, this leather only gets better with age.
This stand-alone color is anything but, pair teal with anything from bright tangerine to cream to tone it up or down. Let contrasting colors work with your design eye. Our advice? Get more mileage out of your statement color by tying it into other areas of your home. Add touches of blue in the adjoining rooms to create a more cohesive design.
Blues repertoire isn't limited to just navy and teal. Periwinkle, cobalt, slate, indigo, and lapis are all on-trend hues to explore and can be found among American Leather's array of leather and fabric choices for your custom-created furniture. And if you can't commit to a bold blue sectional, consider accent chairs, recliners, benches, or even ottomans—all small touches that can make a big color statement in your space.