How To Use Furniture To Pull A Room Together
2nd Jun 2021
A picture-perfect living space starts with understanding that the rooms in your home are meant to be lived in. A put-together living room is a goal that is easily attainable with consideration and design introspection. The rules for decorating rooms are simple: place furniture specially catered to what the room has to offer. Everything from a talking space to an overnight space can be integrated to ease the living aspect of your room.
The task of designing your home includes various moving parts with countless colors on countless items to consider for a cohesive look. Simple style standards can be considered to lighten the creative load when considering balance, harmony, and scale in your creative endeavor. Maybe you already know what you like in different design elements such as style, color, texture, and pattern, but you're just not sure how to bring it all together. To make the most of any space regardless of technical or design know-how start with these basics. There are already enough things to stress you out in life, your home shouldn't be one of them. Create a space comfortably from start to finish.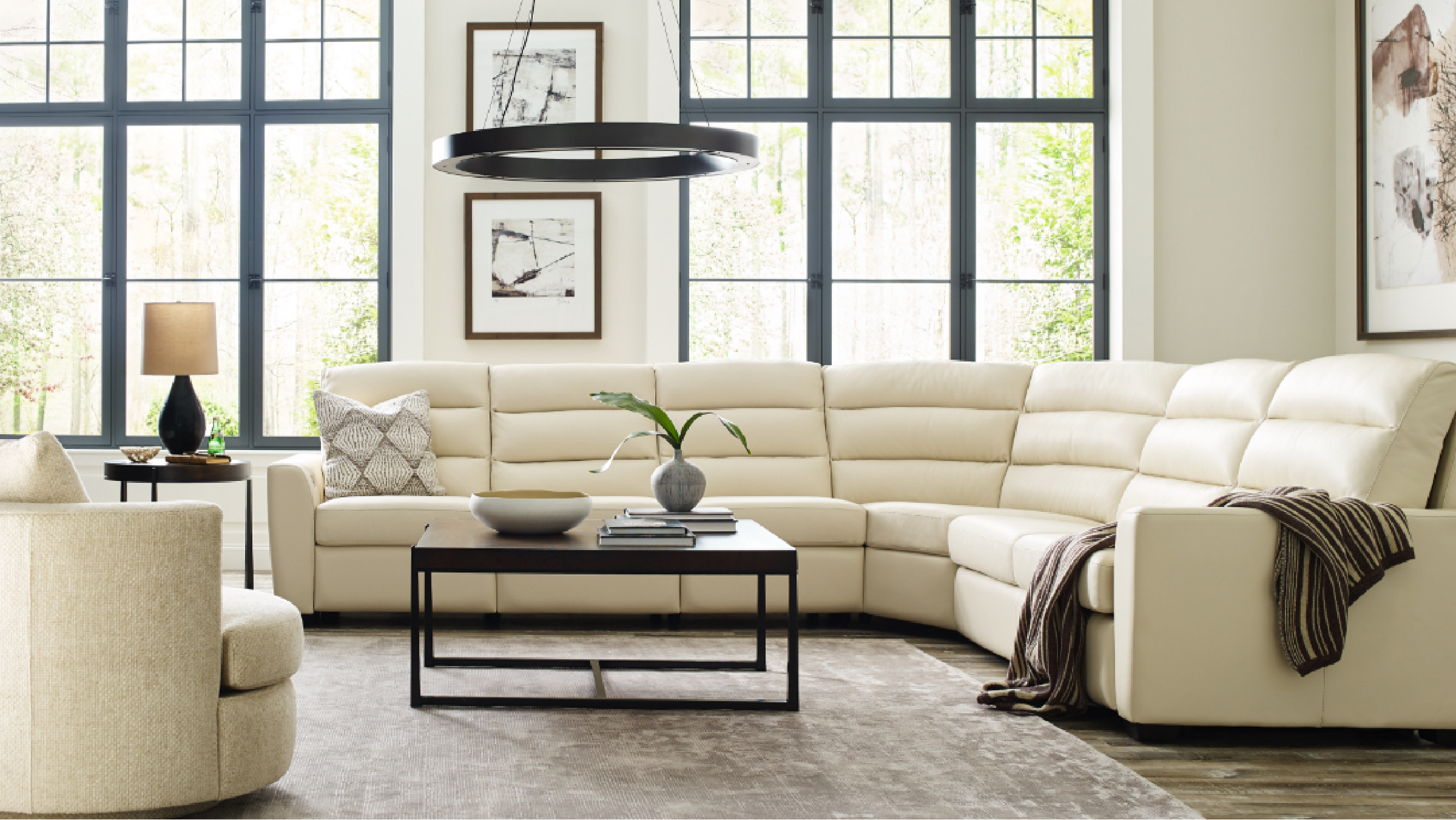 Start Arranging from a Major Piece of Furniture
There is a lot of creativity that can be utilized when pulling a room together, not only in the style aspect but in the use of furniture items that a room will be holding. A new leather sectional in your favorite color will still allow you to repurpose existing accent pieces. Finding adaptations to pair with novel pieces allow for personal touches to bring your living room together rather than create a showroom-style space. Fitting these pieces into place requires the same amount of innovation to consider the balance within the room. Creating a cohesive space is easy when finding the right aesthetic for your area.
Two sectionals might seem like the right way to increase accommodation, but the bright idea can turn into a sour plan quite quickly. The extra space desired can come from a custom-designed Comfort Sleeper® with enough comfort for unexpected guests while keeping style in the forefront by transforming into a stylish and relaxing piece to sip coffee, watch tv, or get caught up in a great book.
Within the same style technique utilization is the integration of new and unexpected furniture pieces such as a recliner that does not follow the rules of what a recliner "is supposed to look like". Finding an innovative way to create seating options with hallway benches and accent chairs that allow for additional seating in a pinch. Large rooms do not mean large pieces of furniture need to be used. To make the most out of your great room and create the feeling of an intimate, put-together space there should be thought when it comes to the arrangement of your sofa, sectionals, or accent pieces. We suggest assigning areas of any large room into sections depending on their desired function. Whether a reading nook or a formal seating space, how you arrange your space makes all the difference.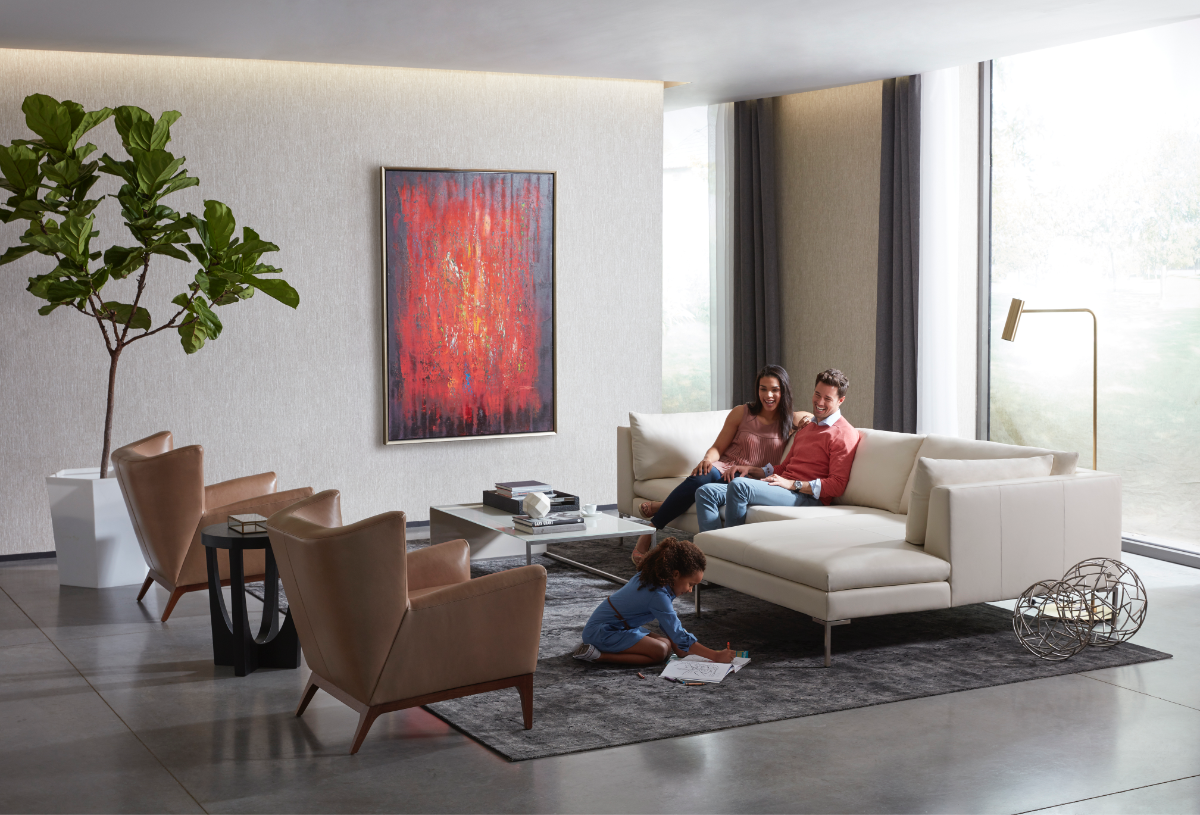 Room Symmetry is Key
Symmetrical balance is often used in the interior design profession to create harmony. To achieve this, arrange items and furniture pieces to mirror one another along a real or imaginary line. Separating your room into a formal sitting room while also creating a boundary to an informal conversation space requires minimal effort for maximum effectiveness. Trusting the balance within the custom pieces in your space will bring together a feeling of coziness and a natural rhythm.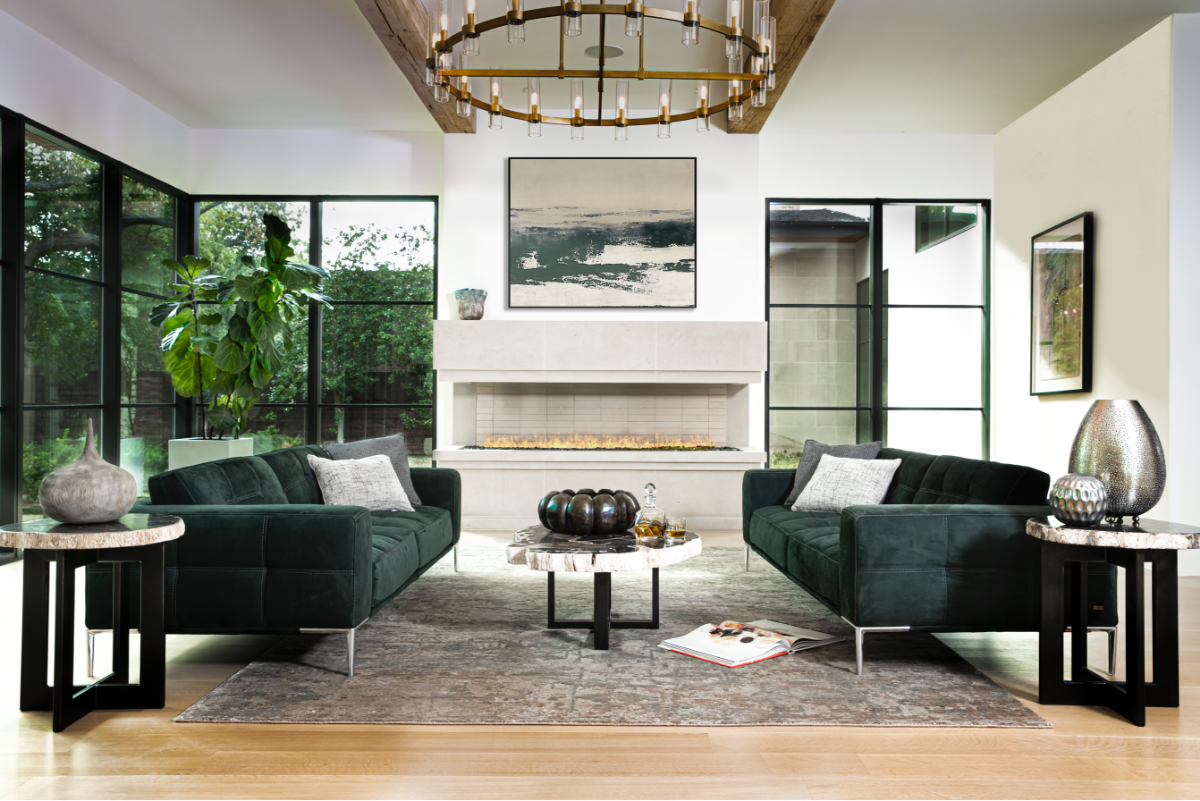 Accommodations should be at the top of the list of what your room needs to function as; ensuring everyone has a comfortable place to relax and settle in during backyard barbeques or family movie nights. Seating should be in abundance with loveseats and sectionals throughout rooms like home theaters and living areas alike. Finding the harmony within the pieces throughout your home is as simple as anchoring a room with a color theme or centerpiece.
Harmony results when all the design elements relate to one another in some way, creating a visually pleasing space. Even though each element is distinct, they all share the same aesthetic style, mood, or theme. They work together to evoke a balanced and cohesive feeling in the room when it's viewed as a whole. Experimenting can happen in this element with custom colors of fabrics and leathers. Choices are not eliminated, instead, they are honed into an aesthetic that can be transformed into a room feeling unique and cohesive.
An empty room should be seen with excitement and opportunity rather than a feeling of being overwhelmed. In some instances, there are obvious choices to consider within a room and others that can be implemented! A large game room in the back of a house may quickly accommodate a row of theatre chairs rather than another sectional in the home. Creating an experience in a room intensifies the scale of the home into what you want it to be. Suddenly, your home can create memories through interior design and your creativity. Scaling a room into how it fits into the need of the house and, most importantly, how you live has more options than just a bed becoming a focal point in a bedroom. Accent chairs or a well-aligned bench allows for a sanctuary to be incorporated into any room that needs a casual rest stop or curated reading space. The key principle in setting up a room with furniture that accommodates as well excites is making sure that the personality is shown from one edge of the room to the other. With the softest fabrics and most luxurious top-grain leathers, the furniture in the room should be showcased in personal style rather than box store convenience.
Pulling a room together involves all the creativity and patience that American Leather takes pride in. Custom furniture pieces available showcased create an ambiance of warmth and comfort that is synonymous with those first steps someone takes in your home. From our world-renowned Comfort Sleeper, Comfort Air, to our Style in Motion collections, each of our pieces that are handcrafted for bustling parties and cozy nights in mind.
Find your own unique custom made furniture today. Shop our latest sleeper sofa styles or recliners here.