Refreshing with Motion Furniture
22nd Jan 2021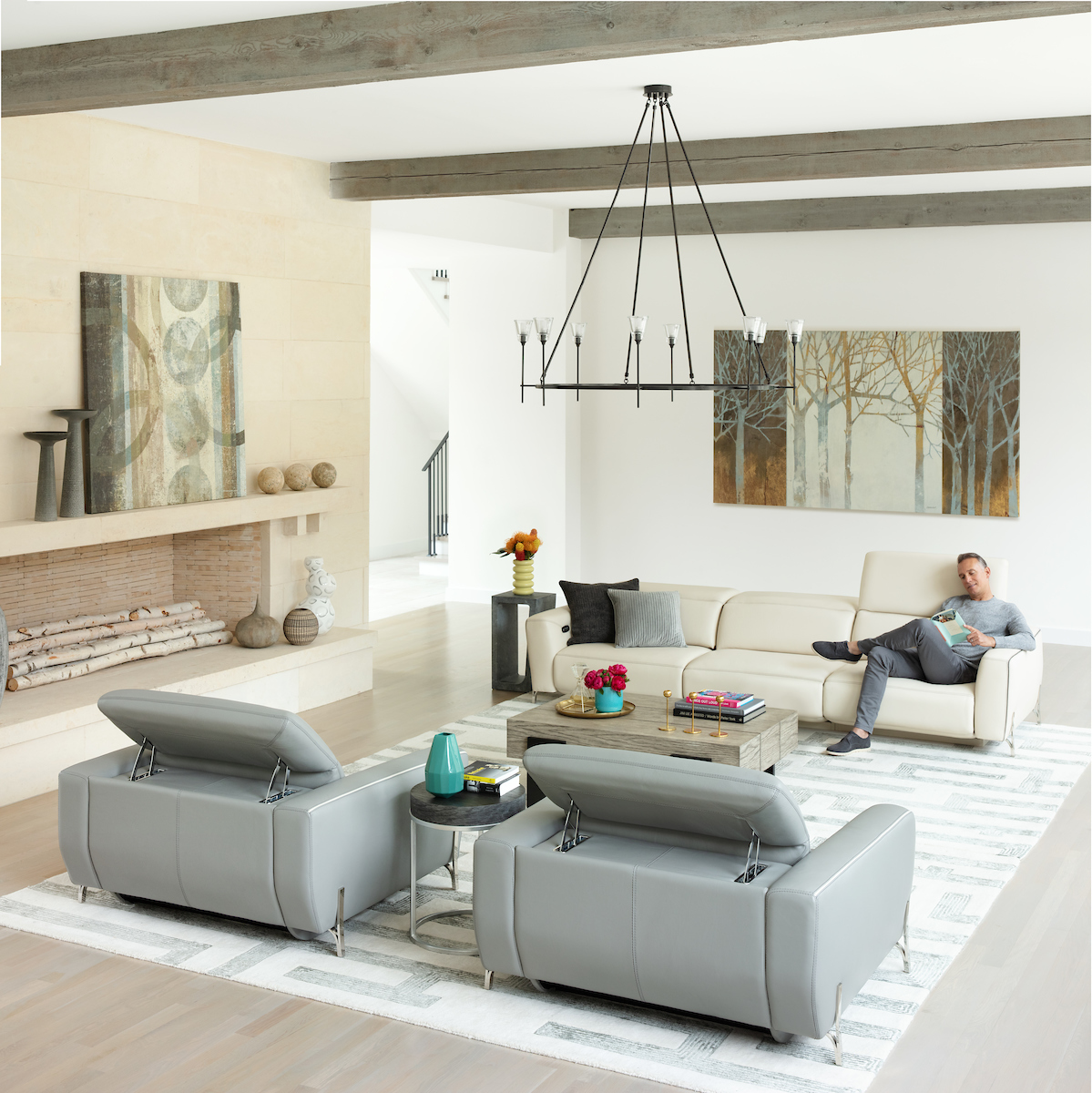 Break out the champagne, open up your laptop, and celebrate the new year with a design revamp. As you flip through digital catalogs and create virtual mood boards, consider refreshing your home design with ultra-comfortable furniture that effortlessly adjusts to your relaxation needs.
The Most Comfortable Recliner Collection
Whether you're seeking a reclining lounge chair, a powered reclining sofa, a stylish sectional, or a sophisticated sleeper, select an innovative motion furniture system that has it all! Experience relaxation refined to fit even the most formal living areas with our Style in Motion collection. Comprised of fashion-forward styles with unmatched innovation to bring you world-class motion furniture. The modular design allows you to build infinite configurations from chairs to large sectionals. With 10 unique styles to choose from and an assortment of fabrics and leathers, you can customize a stylish seating area that meets all your relaxing and entertaining needs.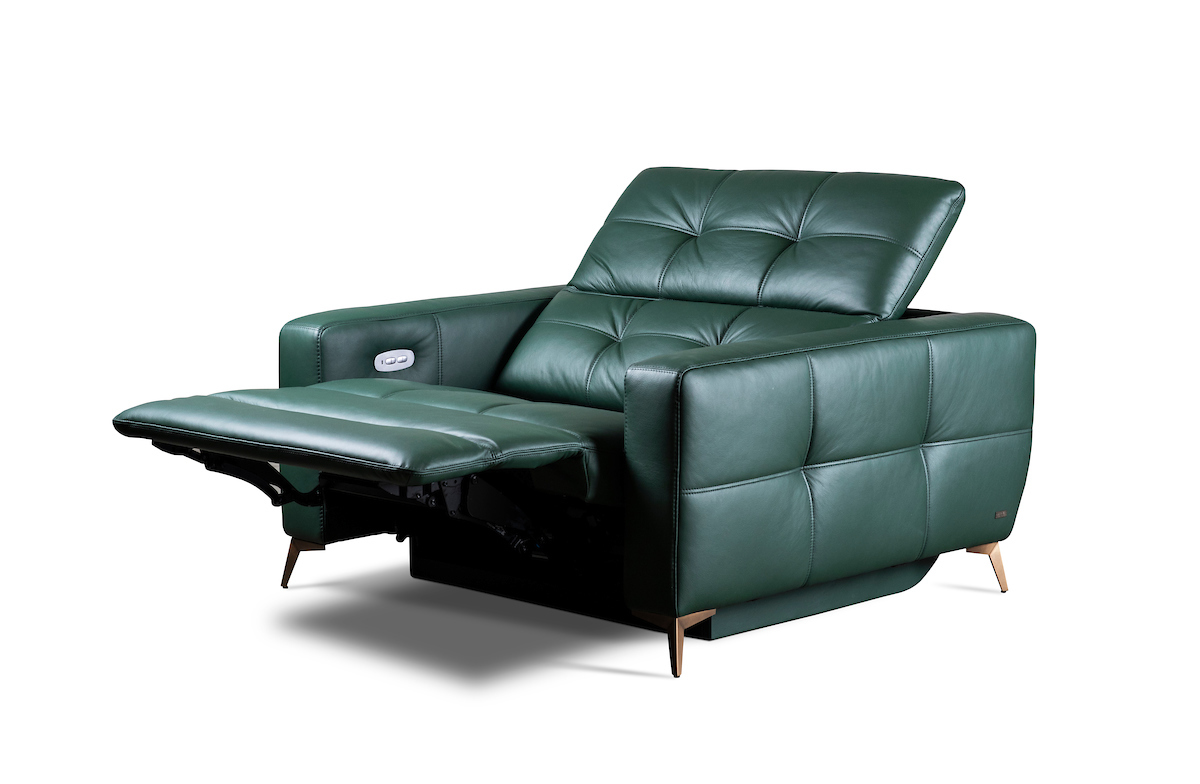 Reclining Lounge Chair
The beginning of a year reminds us about the importance of taking some time for ourselves and finding ways to relax through calming activities. If reading more is on your list of resolutions, a cozy reading nook with an extra wide recliner may be just the incentive you need to find some time to unwind. Our motion recliners are the perfect reclining lounge chair for comfort at any time of day. Enjoy its endless configurations while you watch the morning news or relax after a busy day by cozying up with the newest best-seller. Our Verona collection is a true statement piece, featuring plush channel quilting throughout the entire silhouette for a seating experience that can only be described as cloud like. In one fluid movement, our mechanism offers ongoing support for your head, back, and legs. A wall-hugging design allows for greater recline in tight spaces making it a great option for placing it next to its matching sectional in your living room or strategically sitting it in a small space. Its variety of rich and vibrant leathers and fabrics selections allow you to customize it to effortlessly fit into your home design.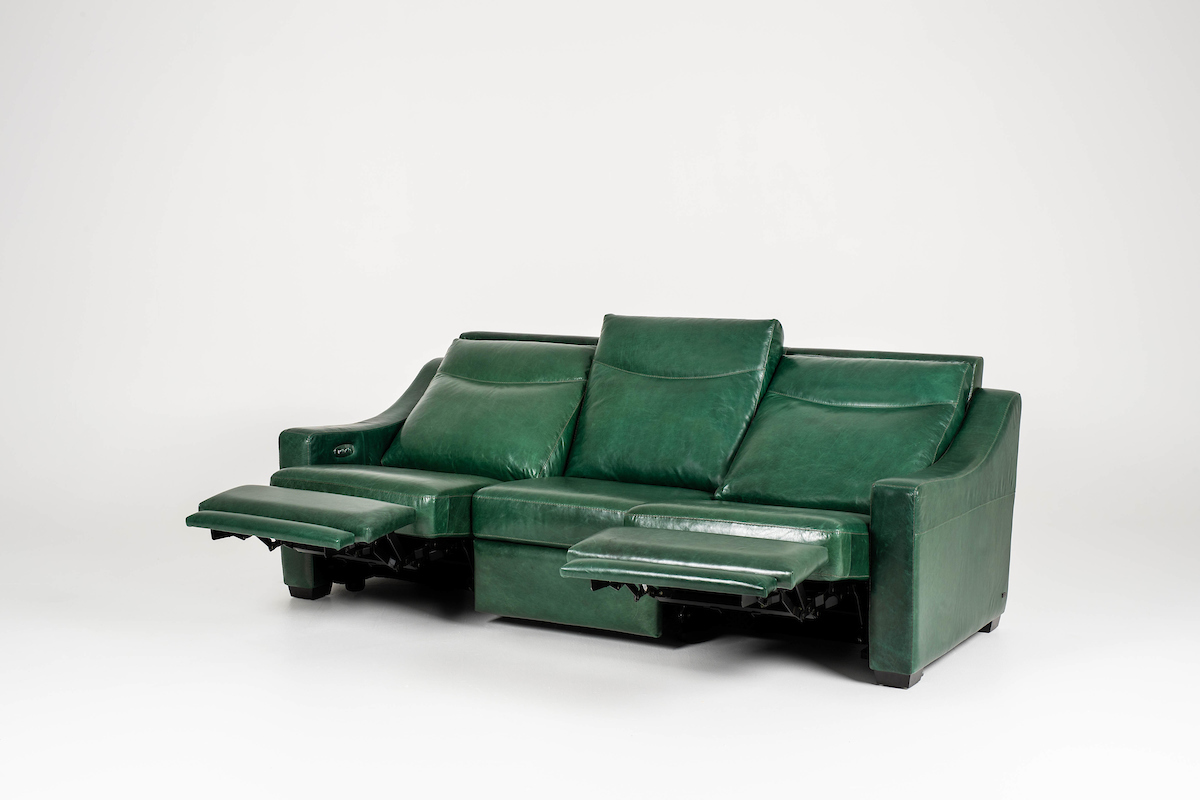 Powered Reclining Sofa
Enjoy the down time of this season and spend some quality time watching movies with your loved ones. Round up the family, heat up some popcorn, and cozy up on a sofa that has movie theater seat quality. Other than skipping the lines, the biggest perk to our Style in Motion sofa is that every spot is a prime seat. Each piece allows you to individually control the headrest and footrest separately which means no constant distractions when someone wants to adjust their seat or get up to grab a snack! The gently sloping arms on our Sarasota collection creates a sleek and stylized silhouette. Its plush cushions conform to your body for endless relaxation positions – the hardest part will be choosing which color fabric or leather to build it in.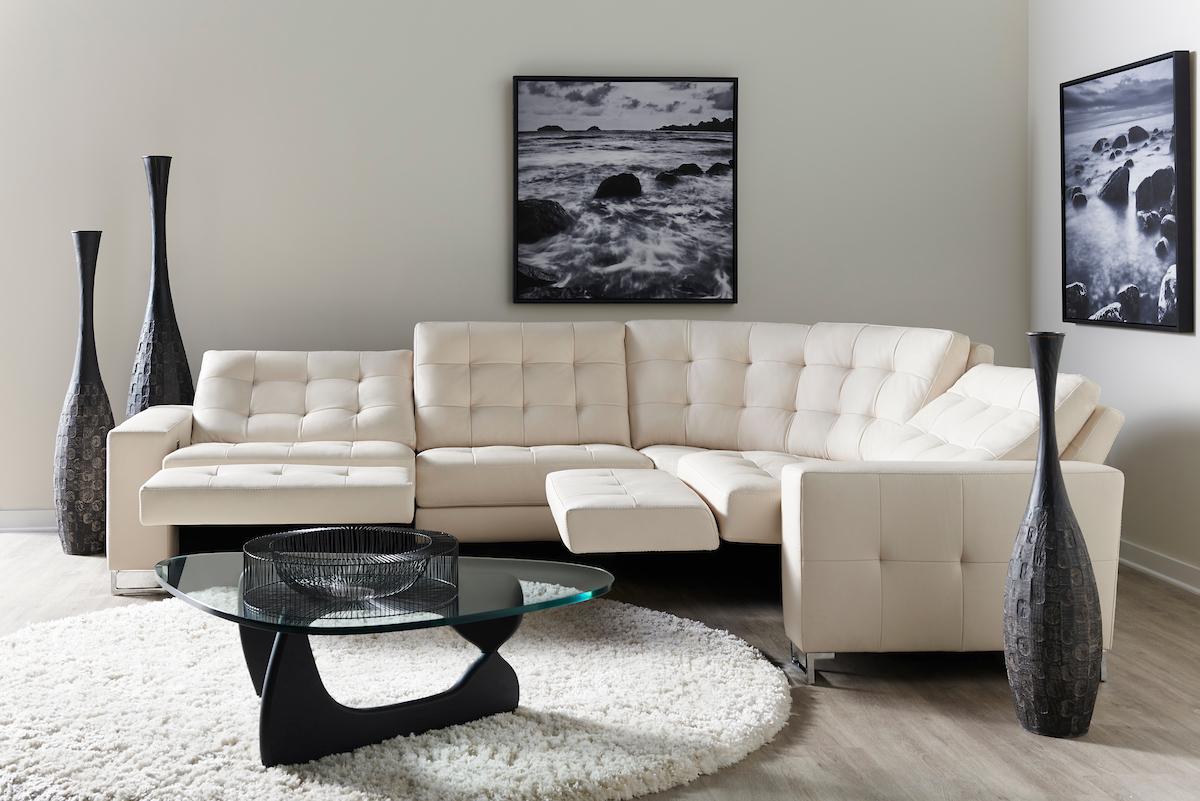 Motion Reclining Sectionals
Curate the ultimate setting for socialization on a sectional designed for conversation. A curved shaped sectional not only adds visual interest to the design of the room but allows you to comfortably gather together on the spacious sofa and conveniently positions you for chatting with friends and family. The buttonless tufting and polished chrome legs on our Hudson collection creates a refined and sophisticated look. Its whisper-quiet power reclining function allows you and your guests to lounge as much or as little as you like with the simple push of a button. Two cushion widths are available, so you customize your curved sectional for ultimate comfort.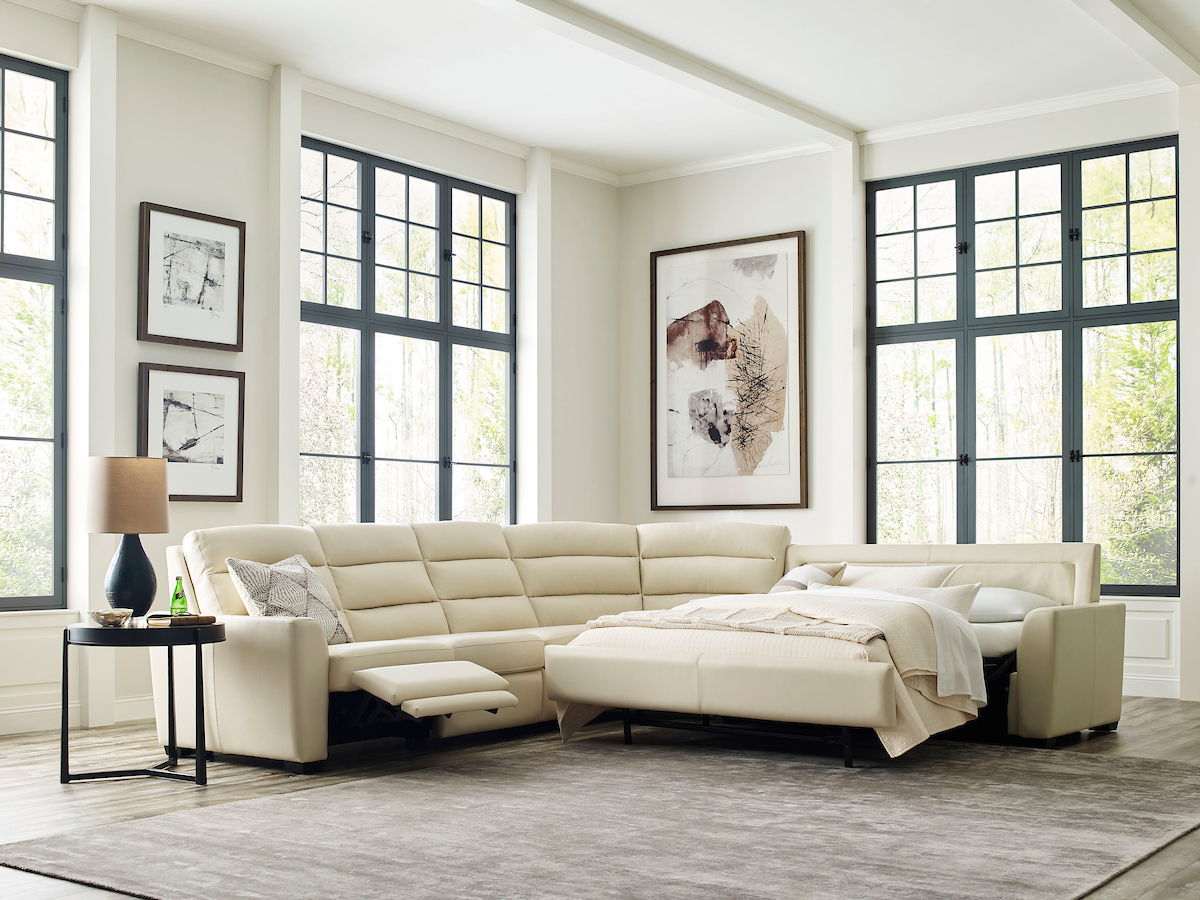 Motion Sleeper Sectionals
For a motion sectional that truly does it all, we've added a sleeper option to make it the perfect solution for every home. While our sectionals are comfortable enough to sleep on, having an extra mattress, whether cot or king sized, is always useful and appreciated by all guests. Known for superior comfort with our no bars, no springs technology, our ultra-comfortable sleepers guarantee your guests a good night's sleep. During the day discreetly tuck the sleeper away and choose from a channel, saddle, or a tufted back cushion style to create the perfect silhouette for your home. The contoured inward sloping track arm and clean lines on our Napa collection brings a modern and elegant style to any space. Whether you're watching television, chatting with friends, or settling into slumber, everyone can rest easy on this dynamic design.
Every home deserves a lounge area that looks stylish and sophisticated without sacrificing comfort. Your furniture is so much more than a place to sit; it's where memories are created. Find the pieces you need in styles you love and customize them to fit your design and functional needs.
To learn more information about our Style in Motion collection, check out our website!