Blurring the Walls between Spaces
10th Sep 2020
With more and more people working from home than ever, the boundaries between your space for work and rest are blurring. Utilizing an area of your house in more ways than one requires a bit of flexibility, creative genius and careful planning. So, It's no surprise that the key to a multi-use room is to introduce multi-purpose furniture that can transition from work to comfort. We realize that making the most out of your living room or spare room can be a daunting task. But these days, you have to do it!
GUESSWORK IN THE GUEST ROOM
Having a guest room is lovely – an entire bedroom in your home dedicated to people who don't live with you! But let's face it, for many of us, that is not reality or easy to accomplish. So maybe rather than rationing off your home's bedrooms, why not transform it into something that works for you and any guests that you might host?
Picture this: your own personal reading room, or a place the kids can gather…. while you're catching a moment of peace. Better yet, a room dedicated to your hobbies. It's your house; it's time to reclaim it.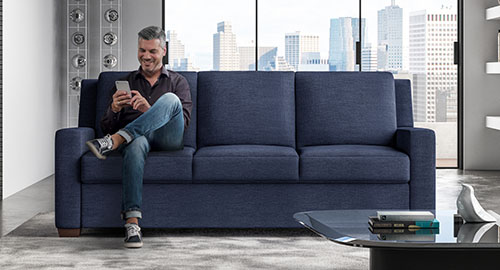 We know what you're thinking, "what about when my in-laws come to stay?" This is where multi-functional furniture comes in. One of our favorite double-duty furniture pieces is the pull-out sofa bed. We transformed the sleeper sofa you used to know with modern technology to provide superior comfort (yes, it is now possible!) and style.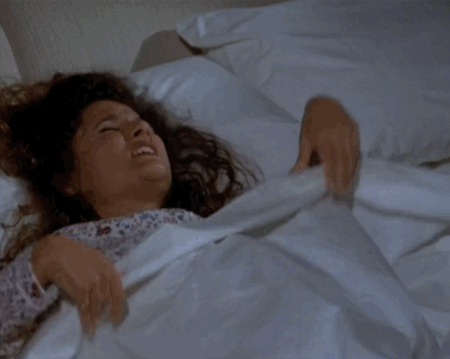 This isn't your primetime sitcom sofa sleeper that made you wake up with a horrible backache... this is a new day! So, we are giving you permission to take back your guest room.
Sleeper sofas are by far the most versatile pieces of furniture to convert almost any room into a mixed-use space! And if you don't have a guest room, and need to have that extra bed in the middle of your living room, not to worry. An American Leather sleeper sofa is so comfortable you can upgrade your family room sofa with a sleeper and still be comfortable. Your guests get to sleep on an actual bed, and you get to sit on a gorgeous sofa that feels good. Gel, premium foam, or Tempur-Pedic® within, each mattress in our Comfort Sleeper collection boasts 80-inches head to toe of sleeping space. And with no bars and no springs, this sleep is more restful than ever…yes, even on a sofa bed!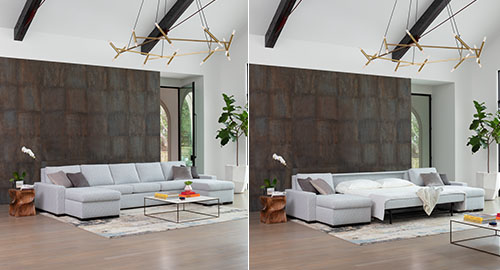 If you're not willing to sacrifice your family room to guests, let's revisit your newly claimed home office.
LIVE-GUEST BALANCE
Is it a flex room or a guest room? Making space in your home fit your needs on short notice shouldn't be a full-time job. Especially when company only comes once or twice a year. Whether anticipated or unexpected, one of the easiest ways to create a multi-function space is to disguise a bed as anything but. Consider squirreling away a sleeper sofa into your home office. When it's not the resting place for your overnight guests, it's a place to read, scroll, or answer some emails.
SIZE MATTERS
When it comes to choosing your multi-purpose furniture, size really does matter. One size doesn't fit all; that's why we offer multiple sleeper sizes. Typically, the flex room isn't the biggest in your house. With our seven sizes, you're guaranteed to find the perfect sized sleeper for your space to accommodate your needs.

Think of this as a way to customize how many guests you want at any given time! Choose a size that meets your Goldie-Locks standards: not too big, not too small. In most instances, a queen or full-size sofa bed provides that "just right" middle ground.
SET THE MOOD FOR RELAXATION
Whether it's daytime or night – setting the mood for your combo room is crucial. We offer nearly 500 different upholstery options from leather, performance fabrics, and even luxurious cotton velvets. Choose an upholstery fabric or leather that complements the rest of the furniture in your space to create a cohesive look. If you're more daring, a pop-color, like a canary yellow Sunbrella® fabric, can add a bit of intrigue and make your spare bedroom a showstopper! Even your pickiest guests will adore it.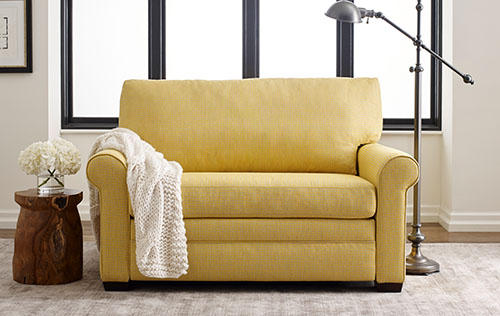 DETAILS MAKE A DIFFERENCE
Whether you're designing a room for play or rest, it's important to insert your personal style into it. After all, it is your own home! Carefully consider which decorative items that are to sit atop or artfully laid upon the furniture. They will likely have to be moved when converting the space from work to sleep.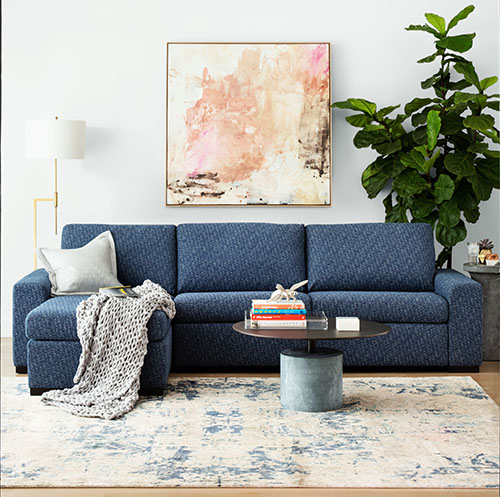 As a guest room, you may want to keep the décor a bit on the subdued side to not inundate your guests with your collection of oddities.
Both work or guest spaces should be calming and comfortable for both uses. Either way, make sure you are happy in it, and your guests will soon follow!